How to remove Save by Click adware (Removal Guide)
01-14-2013, 05:38 AM
Post: #1
Fiery
Community Admin

Posts: 2,054
Joined: Jan 2011
Kudos 518
How to remove Save by Click adware (Removal Guide)
What is Save by Click?
Save by Click is an adware that displays advertisements and hijacks your browsers. Although some adwares are not harmful, they are a nuisance due to constant pop-ups and ads. It is recommended that you remove these programs as some can be malicious.
Save by Click installs itself, without the user's permission. Once installed, it displays various advertisements & coupons and tracks the user's browsing habits. It also redirects the user's search results to sites where the author of Save by Click will receive a commission. In addition, this adware may also install other junk or unwanted programs onto the user's PC without the user's knowledge.
It is highly recommended that you remove Save by Click from your computer.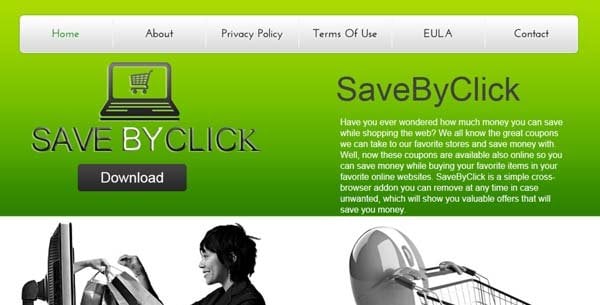 How to remove Save by Click (Removal Instructions)
If you experience any problems completing these instructions, please start a new thread
here
Step 1: Uninstall Save by Click
Click

Start

, select

Control Panel

Click

Add/Remove Programs

(Or if you are using Vista/ Window 7, click

Uninstall a program

)
Let the list of programs finish loading and find

Save by Click

and uninstall it

If you don't see

Save by Click

on the list, proceed to the next step

Step 2: Remove browser Hijacks
Note: All your browsers will likely be hooked by the adware. As a result, you have to remove the Save by Click extension or add-on in each browser.
For Google Chrome
Open Chrome and click and select

Settings

On the left hand side, click on the

Extension

tab
Delete the Save by Click extension by clicking the trash can icon

For Firefox
Start Firefox and click the orange box on the top left corner. A drop down box will appear. Select

Add-Ons

Add-Ons Manager will pop up. Look for the Save by Click extension and remove it.


For Internet Explorer
Start IE and click

Tools

then

Manage Add-Ons

Locate the Save by Click Add-on and disable it.

Step 3: Download AdwCleaner onto your desktop.
Close all open programs and internet browsers.
Double click on

AdwCleaner.exe

to run the tool(For Vista or Windows 7, right-click and select

Run as Administrator to start

)
Click

delete



Step 4: Download Malwarebytes' Anti-Malware(

download link

) to your desktop
Double-click

mbam-setup.exe

and follow the prompts to install the program.
At the end, be sure a checkmark is placed next to

Update Malwarebytes' Anti-Malware

and

Launch Malwarebytes' Anti-Malware

then click

Finish

.
Malwarebytes Anti-Malware will now start and you'll be prompted to start a trial period , please select 'Decline'

If an update is found, it will download and install the latest version.


Once the program has loaded, select

Perform quick scan

, then click

Scan

.
When the scan is complete, click

OK

, then

Show Results

to view the results.



Be sure that everything is Checked (ticked) and click on

Remove Selected

.
Reboot your computer if prompted.
These instructions should remove any remaining traces of this adware. If you are still experiencing problems on your PC
or
would like to have one of our staff members
verify
that your PC is clean, please start a new thread in our
Malware Removal Assistance
forum.
How was I infected?
Rogues can get on to computers without the user's consent through

Drive-by downloads

. When a user visits a compromised or infected website, the site immediately checks for any security vulnerabilities on the machine to inject the malicious code.
Peer-to-peer (P2P) programs such as

utorrent

are frequently used by hackers to distribute malware
Although the peer-to-peer programs are legitimate, the files shared are extremely dangerous. Hackers often use fake file names to trick users into downloading malware.
Hackers can also trick the user into downloading a file, saying it is a legitimate file needed to view a video or pictures.
How can I prevent these infections?
Keep your system updated
Keeping your programs (especially Adobe and Java products) updated is

essential

. Update Checker will notify you if any of your programs require an update.
Microsoft releases patches for Windows and Office products regularly to patch up Windows and Office product bugs and vulnerabilities.
Please ensure you update your system regularly and have automatic updates

on

. You can learn how to turn Automatic Updates on here

---
If you have another antivirus, it is recommended that you to switch your antivirus program to a better one. Here are some suggestions:
In addition to your antivirus, you need additional protection such as a firewall and behavioural blocker.
Here are only a few suggestions that will improve your system security. Should you wish to allow us to make full recommendations and set your PC up with
maximum
security, please start a thread
here.
Our community of PC enthusiasts and experts will give you feedback and help you secure your system from future malware infections.
---
Internet Explorer may be the most popular browser but it's definitely not the most secure browser. Consider using other browsers with addition add-ons to safeguard your system while browsing the internet.
Firefox
is a more secure, faster browser than Internet Explorer. Firefox contains less vulnerabilities, reducing the risk of drive-by downloads. In addition, you can add the following add-ons to increase security.
Google Chrome
is another good browser that is faster and more secure than Internet Explorer by having a
sandbox feature
. Additionally, you can add the following add-on to Chrome to heighten security.
---
It is important to perform system maintenance on a regular basis. Here are a few tools and on-demand scanners that you should keep & use every 1-2 weeks to keep your system healthy.
---
User(s) browsing this thread: 1 Guest(s)
MalwareTips.com
is an independent website.All trademarks mentioned on this page are the property of their respective owners.
---