Remove Police Central e-crime Unit (PCEU) Alert
02-13-2012, 05:48 PM
Post: #1
Jack
Community Admin

Posts: 6,434
Joined: Jan 2011
Kudos 2605
Remove Police Central e-crime Unit (PCEU) Alert
Police Central e-crime Unit (PCEU)
is a malicious software (Trojan Ransomware) that is locking your computer, and posing as an official notice from a law enforcement agency, claims that the your PC has been determined to have visited illegal websites.In reality, none of what Police Central e-crime Unit (PCEU) is reporting is real, and the alert is only used to scare you into paying for a non-existing fine and stealing your personal financial information.
We strongly advise you to follow our Police Central e-crime Unit (PCEU) removal guide and ignore any alerts that this malicious software might generate.Under no circumstance should you send any any money to this cyber criminals as this could lead to identity theft.
If you've got a
Police Central e-crime Unit (PCEU)
infection , you'll be seeing this screens :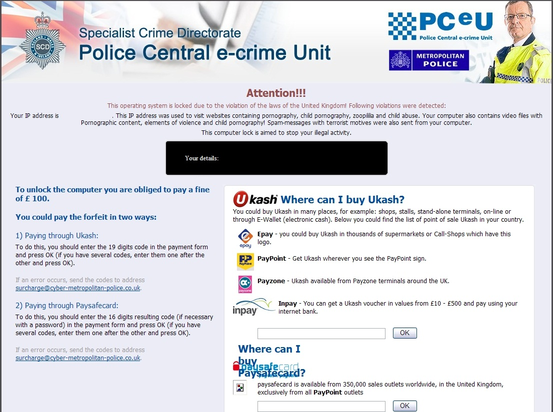 Removal guide for Police Central e-crime Unit (PCEU)
 We will use the Kaspersky Rescue Disk Bootable CD to clean the Windows registry and to perform a system scan to remove the malicious files.
What you'll need to perform this removal guide :
A computer with Internet access.
1 blank DVD or CD
1 DVD/CD Burner
Software which can create a bootable CD -  http://www.imgburn.com/index.php?act=download
A copy of the latest Kaspersky Rescue Disc from here -  http://rescuedisk.kaspersky-labs.com/rescuedisk/updatable/
About 1 -2  hours depending on how much data you have on C:
STEP 1: Create a bootable Kaspersky Rescue Disk CD
You can now insert your blank DVD/CD in your burner.
Install ImgBurn by following the prompts and then start this program.
Click on the Write image file to disc button.

Under 'Source' click on the Browse for file button, then browse to the location where you previously saved the Kaspersky Rescue Disk ISO file.(kav_rescue_10.iso)

Click on the big Write button.

The disc creation process will now start and it will take around 5-10 minutes to complete.
STEP 2:Configure the computer to boot from CD-ROM
Use the Delete or F2 keys, to load the BIOS menu.Information how to enter the BIOS menu is displayed on the screen at the start of the OS boot:

In your PC BIOS settings select the Boot menu and set CD/DVD-ROM as a primary boot device.

Insert your Kaspersky Rescue Disk and restart your computer.
STEP 3:Boot your computer from Kaspersky Rescue Disk
Your computer will now boot from the Kaspersky Rescue Disk,and you'll be asked to press any key to proceed with this process

In the start up wizard window that will open, select your language using the cursor moving keys. Press the ENTER key on the keyboard.

On the next screen, select Kaspersky Rescue Disk. Graphic Mode then press ENTER.

The End User License Agreement of Kaspersky Rescue Disk will be displayed on the screen. Read carefully the agreement then press the C button on your keyboard.

Once the actions described above have been performed, the Kasprsky operating system will start.
STEP 4: Launch Kaspersky WindowsUnlocker to remove the Police Central e-crime Unit (PCEU) malicious registry changes
Police Central e-crime Unit (PCEU) has modified your system registry so that when you're trying to boot your computer it will instead launch his lock screen.To remove this malicious registry changes we need to use the Kasersky WindowsUnlocker from Kaspersky Rescue Disk.
Click on the Start button located in the left bottom corner of the screen and select the Kaspersky WindowsUnlocker.

Alternatively you can select Terminal and in the command prompt type windowsunlocker and then press Enter on the keyboard.
A white colored console window will appear and will automatically start loading the registry files for scanning and disinfection. The whole process will take only a couple of seconds and after this process you should be able to boot your computer in normal mode.

STEP 5:Scan your system with Kaspersky Rescue Disk
Click on the Start buttonlocated in the left bottom corner of the screen and select the Kaspersky Rescue Disk then click on My Update Center and press Start update.

When the update process has completed, the light at the top of the window will turn green, and the databases release date will be updated.

Click on the Objects Scan tab, then click Start Objects Scanto begin the scan.

If any malicious items are found, the default settings are to prompt you for action with a red popup window on the bottom right. Delete is the recommended action in most cases but we strongly recommend that you try first to disinfect , and if it doesn't work chose to quarantine the infected files just to be on the safe side.

When all detected items have been processed and removed, the light in the window will turn green and the scan will show as completed.

When done you can close the Kaspersky Rescue Disk window and use the Start Menu to Restart the computer.
As an additional step , we recommend that you download and perform a system scan with Malwarebytes Anti-Malware and HitmanPro.
If you are still experiencing problems while trying to remove Windows Anti Hazard Helper from your machine, please start a new thread in our Malware Removal Assistance forum.
What's next? Join our amazing community and build up your malware defenses !
User(s) browsing this thread: 1 Guest(s)
MalwareTips.com
is an independent website.All trademarks mentioned on this page are the property of their respective owners.
---