[SOLVED,CLOSED]Problem removing SMART HDD
04-26-2012, 08:00 AM
Post: #11
Siouxsiesue
Regular Member (Level 2)

Posts: 27
Joined: Apr 2012
Kudos 1
RE: Problem removing SMART HDD
Hello

In the meantime, I tried running TDSSkiller which detected no threats.
Then I ran PC Tools Spyware Doctor but did not purchase the product at the end - however it directed me to IE which I then set as a default.
When I came out of this I noticed that when I plugged my USB stick in, the drive window showed properly for the first time (not just an empty box with pictures!). Wondered if this was what was causing the problem - I might have removed the Smart HDD problem with all the things I'd tried previously (!) and this could have been a separate compatibility problem with IE and Google Chrome (now uninstalled). Of course, afterwards, I remember trying IE as an option and it did state that there was a compatibility problem but just thought it was a page fault!
Thought I'd give Malware Antimalwarebytes another go... re-downloaded ..and to my surprise it ran completely.
Is there anything I should run to ensure that the problem is sorted? The SpyDoctor showed 1 high risk,6 medium risks and loads of low risks?

Presumably I don't need to run repair install now?

Thanks
S
04-26-2012, 11:02 AM
Post: #12
RE: Problem removing SMART HDD
How is the computer running currently??
04-26-2012, 12:14 PM
Post: #13
Siouxsiesue
Regular Member (Level 2)

Posts: 27
Joined: Apr 2012
Kudos 1
RE: Problem removing SMART HDD
Hello

Computer is running fine now.
Screens all back to normal and IE running fine.
(Currently running Super Antispyware.)

Have added Comodo firewall as recommended in config section.

Thanks

S
04-26-2012, 04:58 PM
Post: #14
RE: Problem removing SMART HDD
Congratulations!! Your PC is all clean!
To uninstall ComboFix
Click the Start button. Click Run.

For Vista: type in Run in the Start search, and click on Run in the results pane.

In the field, type in

ComboFix /uninstall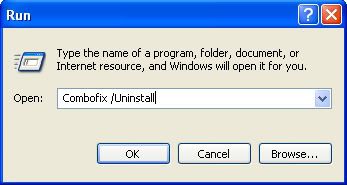 (Note: Make sure there's a space between the word ComboFix and the forward-slash.)
Then, press Enter, or click OK.
This will uninstall ComboFix, delete its folders and files, hides System files and folders, and resets System Restore.
Here are some additional links for you to check out to help you with your computer security.
Browsers
Just because your computer came loaded with Internet Explorer doesn't mean that you have to use it, there are other free alternatives,
FIREFOX
and
OPERA
, both are free to use and are more secure than IE.
If you are using firefox you can stay more secure by adding
NoScript
and
WOT (Web Of Trust)
NoScript stops Java scripts from starting on a web page unless you give permission for them, and WOT (Web Of Trust) has a comprehensive list of ratings for different websites allowing you to easily see if a website that you are about to go to has a bad reputation; in fact it will warn you to check if you are sure that you want to continue to a bad website.
Make your Internet Explorer more secure

- This can be done by following these simple instructions:
From within Internet Explorer click on the

Tools

menu and then click on

Options

.
Click once on the

Security

tab
Click once on the

Internet

icon so it becomes highlighted.
Click once on the

Custom Level

button.
Change the

Download signed ActiveX controls

to

Prompt

Change the

Download unsigned ActiveX controls

to

Disable

Change the

Initialize and script ActiveX controls not marked as safe

to

Disable

Change the

Installation of desktop items

to

Prompt

Change the

Launching programs and files in an IFRAME

to

Prompt

Change the

Navigate sub-frames across different domains

to

Prompt

When all these settings have been made, click on the

OK

button
If it prompts you as to whether or not you want to save the settings, press the

Yes

button.
Next press the

Apply

button and then the

OK

to exit the Internet Properties page.
Cleaning
Now that your PC is free of malware, it is important to clean up your PC.
There are several good free cleaners available. You should make sure to clean up your temp files regularly, at least once a week.
ATF Cleaner
CCleaner
Defragmenting Your Hard Disk
Over time your PC can become fragmented, Windows comes with a defragmenting utility, however,
it is very slow, and there are other options available.

To use the defragmenter included with Windows
either
go to Start/Run and type dfrg.msc, hit enter;
or
right-click My Computer, choose Manage, Storage, Disk Defragmenter.
In the Defragmenter utility, select your main partition/HD, generally C:\ and select analyze . The analysis report will tell you whether or not your disk needs to be defragmented, if it does, click defragment. Be patient, this can take a long time.
Repeat for multiple partitions/hard disks.
System Restore Cleanup Instructions
If you are using Windows ME or XP then it is good to disable and re-enable system restore to make sure there are no infected files left in a restore point. (All restore points will be deleted that way)
You can find instructions on how to disable and re-enable system restore here:
Windows ME System Restore Guide
Windows XP System Restore Guide
Window Vista and Windows 7
Reading Tip:
Computer Health
Keep Your System Updated
Microsoft releases patches for Windows and Office products regularly to patch up Windows and Office products loopholes and fix any bugs found.
Please ensure that you visit the following websites regularly or do update your system regularly.
Install the updates immediately, if they are found. Reboot your computer if necessary, revisit Windows Update and Office update sites until there are no more updates to be installed.
To update Windows and office
Go to Start > All Programs > Microsoft Update
Alternatively, you can visit the link below to update Windows and Office products.
Microsoft Update
If you are forgetful, you can change some settings so that you will be informed of updates. Here's how:
1. Go to Start > Control Panel >
Automatic Updates
2. Select
Automatic (recommended) radio button
if you want the updates to be downloaded and installed without prompting you.
3. Select
Download updates for me
, but let me chose when to install them radio button if you want the updates to be downloaded automatically but to be installed at another time.4.
Select Notify me but don't automatically download or install them
radio button if you want to be notified of the updates.
Please make sure that you update your antivirus, firewall and anti-spyware programs at least once a week.
Be careful when opening attachments and downloading files.
1.
Never open email attachments
, not even
if they are from someone you know
. If you need to open them, scan them with your antivirus program before opening.
2.
Never open emails from unknown senders
.
3. Beware of emails that warn about viruses that are spreading, especially those from antivirus vendors. These are called
hoaxes
. The email addresses used in the hoaxes can be easily spoofed. Check the antivirus vendor websites to be sure.
4.
Be careful of what you download
. Only download files from known sources. Also,
avoid cracked programs
. If you need a particular program that costs too much for you, try finding free alternatives on Sourceforge or Pricelessware.
Surf safely
Many security exploits on websites are directed to users of Internet Explorer and Firefox.
If you use Firefox, try the
No-script Add On
- which, by default, disables all scripts on all websites. If you trust the website, you can manually allow scripts to work.
Backup regularly
You never know when your PC will become unstable or become so infected that you can't recover it. Follow this
Microsoft Article
to learn how to backup. Follow
This Article
by Microsoft to restore your backups.
Alternatively, you can use 3rd-party programs to back up your data. Examples of these can be found at
Bleeping Computer
Avoid P2P
We are not here to pass judgment on file-sharing as a concept. However, we will warn you that engaging in this activity and having this kind of software installed on your machine will always make you more susceptible to re-infections. It is certainly contributing to your current situation.
Please note: Even if you are using a "safe" P2P program, it is only the program that is safe. You will be sharing files from uncertified sources, and these are often infected. The bad guys use P2P filesharing as a major conduit to spread their wares.
I would strongly recommend that you uninstall them, however that choice is up to you. If you choose to remove these programs, you can do so via Control Panel >> Add or Remove Programs.
Happy surfing and stay clean!
04-26-2012, 07:55 PM
Post: #15
Siouxsiesue
Regular Member (Level 2)

Posts: 27
Joined: Apr 2012
Kudos 1
RE: Problem removing SMART HDD
Thank you for all your help and advice.
Much appreciated!

Sue
User(s) browsing this thread: 1 Guest(s)
MalwareTips.com
is an independent website.All trademarks mentioned on this page are the property of their respective owners.
---