Search.installmac.com is a browser hijacker, which is promoted via other free downloads, and once installed it will change your browser homepage and default search engine to http://search.installmac.com/.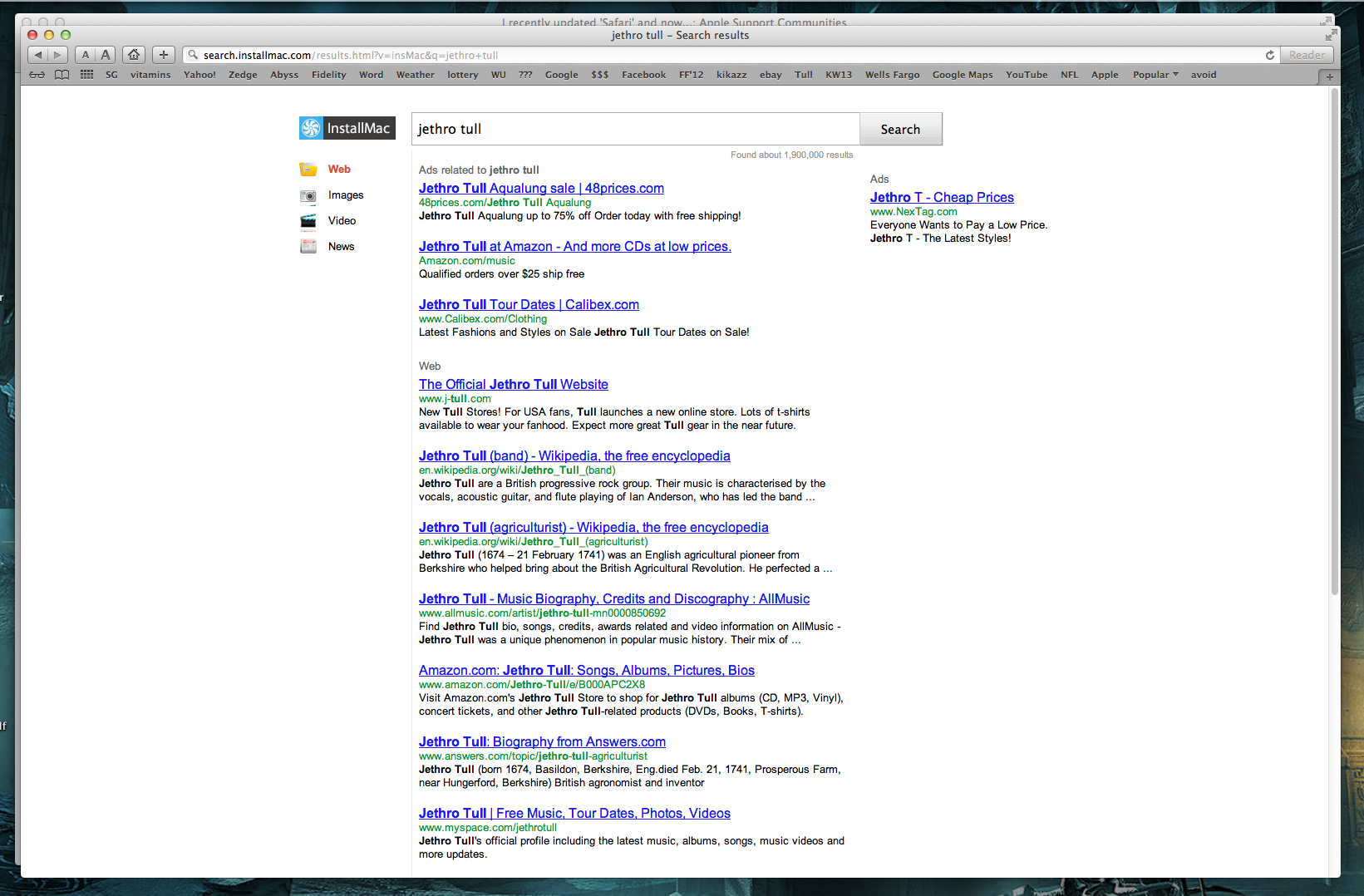 InstallMac will display advertisements and sponsored links in your search results, and may collect search terms from your search queries. The Search.installmac.com infection is used to boost advertising revenue, as in the use of blackhat SEO, to inflate a site's page ranking in search results.
The Search.installmac.com it's technically not a virus, but it does exhibit plenty of malicious traits, such as rootkit capabilities to hook deep into the operating system, browser hijacking, and in general just interfering with the user experience. The industry generally refers to it as a "PUP," or potentially unwanted program.
Search.installmac.com got on your computer after you have installed a freeware software (video recording/streaming, download-managers or PDF creators) that had bundled into their installation this browser hijacker.
For example, when you install DivXPlayer, you will also agree to change your browser homepage to Search.installmac.com, set your default search engine to Ask.com, and install the Shareaza Music Toolbar.
However when you uninstall Shareaza Music Player from your computer, your web browser's default settings will not be restored. This means that you'll have to remove Shareaza Music Toolbar and Search.installmac.com from your favorite web browser manually.
You should always pay attention when installing software because often, a software installer includes optional installs, such as this Search.installmac.com browser hijacker. Be very careful what you agree to install.
Always opt for the custom installation and deselect anything that is not familiar, especially optional software that you never wanted to download and install in the first place. It goes without saying that you should not install software that you don't trust.
How to remove Search.installmac.com (Virus Removal Guide)
To remove the "Search.InstallMac.com" hijack from Safari MAC OS X, we will need to reset this browser to its default settings.
Click on Safari in your Safari menu, located at the top of your screen. When the drop-down menu appears, choose Preferences.

In the Preferences menu, select the General tab.
Once General tab is selected, you will notice a section labeled Default search engine field. To change the Safari's search engine from search.InstallMac.com to its default, click on the drop down menu, then select Google.

InstallMac.com has also changed your homepage to search.installmac.com. To revert this change, in the Home page field, simply erase the contents of the edit field and replace it with the desired web address.
In some cases this browser hijacker will not be removed with the above instructions , if that is the case, you can follow the below instructions:
You can download the InstallMac uninstaller from the below link:
INSTALLMAC UNINSTALLER DOWNLOAD LINK (This link will open a web page from where you can download the InstallMac uninstaller for this malicious program)
Double-click on the Uninstaller.dmg program to start the uninstall process, then click on the Open button.

A pop-up window will ask you if you want to reset your browser to its default settings, when this happens you will need to click on the Yes button.

Next, select (triple-click) the following line, then control-click and select Services > Reveal from the contextual menu:/library/launchdaemons/com.genieoinnovation.macextension.client.plist
and
/library/launchagents/com.genieoinnovation.macextension.plist

If a Finder window opens with the file com.genieoinnovation.macextension.client.plist or com.genieoinnovation.macextension.plist selected, drag it to the Trash, then just click OK.

You can now restart your Apple MAC OS X.
If you are still experiencing problems while trying to remove Search.installmac.com from your machine, please start a new thread in our Malware Removal Assistance forum.