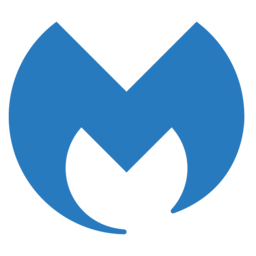 Malwarebytes Free
takes out malware, adware, spyware, and other threats before they can infect your machine and ruin your day.
Malwarebytes Premium detects and removes viruses, ransomware, and other malware in real-time with advanced anti-malware technology. Catches dangerous threats automatically, so you're protected without having to even think about it.
---
STEP 1
Get Malwarebytes from Google Play.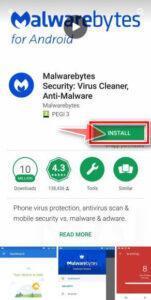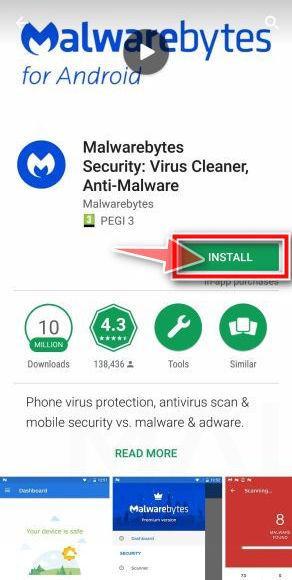 STEP 2
Install Malwarebytes on your phone.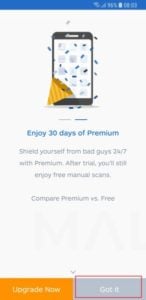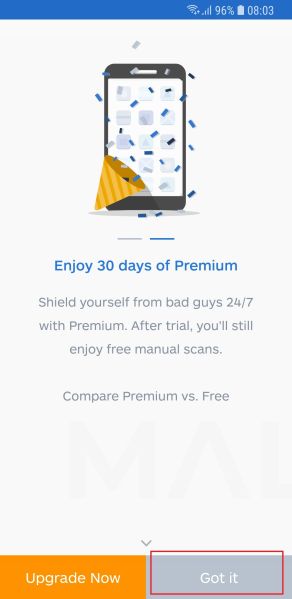 STEP 3
Scan your phone with Malwarebytes.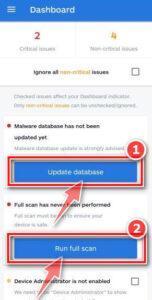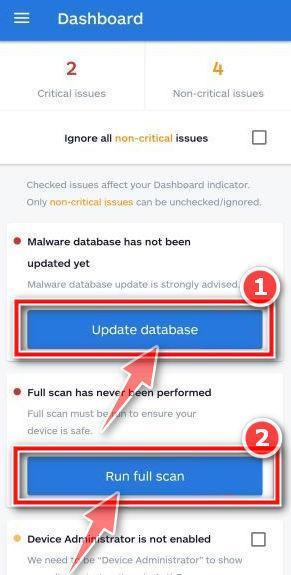 ---
ABOUT MALWAREBYTES:
Author:
Malwarebytes
License:
Free to scan and clean malware.
Extra features with $9.99 upgrade.
Support:
Devices running Android version 7 or higher with an active Internet connection.
---
COMPANY'S DESCRIPTION:
Your mobile safety is our priority. Experience award-winning anti-malware security and virus protection with Malwarebytes. Get real-time protection, mobile security alerts and more with a 30 day free trial of Malwarebytes Premium.
Our security app blocks scams and secures your smartphone or tablet. Protect your phone and tablet from viruses, malware, spyware, ransomware and other online security threats easily.
Best of all, our powerful cybersecurity features are easy to manage. Our security app scans for viruses and malware, and aggressively detects ransomware, PUPs, android hacks and phishing scams to prevent them from coming back.
Why Malwarebytes?
• Award-winning anti-malware technology proven to eliminate traces of malware that other antivirus programs miss
• Ad free Antivirus App: Malwarebytes is ad-free, forever
• 4 million threats detected or blocked by Malwarebytes every day
• Our security app is easy-to-use with a simple 1-click interface
• Over 300,000 users use Malwarebytes every day to improve their mobile security
The cybersecurity of tomorrow is in the palm of your hands. Download Malwarebytes today.
MALWAREBYTES FEATURES
🔰Internet Security
– Anti phishing protection
– Antivirus cleaner
– Malware removal and scanning
– Ransomware protection
– Spyware detection
🔰Malware Removal & Remediation
– Malware Scanner: Catch and remove adware, malware, bloatware and more
– Threat scan: Quick scan or deep scan to check apps, folders, files and downloads for malware
– Protect your phone or tablet with award-winning malware protection and remediation other antivirus apps can't match
– Malware Removal: Eliminates all traces of malware and prevents them from coming back
🔰Online Security Audit
– Get a comprehensive overview of your tablet and phone security with ease
– Receive mobile security recommendations based on your audit results
🔰Privacy Check
– Privacy Protector: check what information is being shared across your Android devices
– Privacy Check: See exactly what each app has accessibility to like location, fees and call monitoring
Protect your mobile security by harnessing the full power of your technology with a 30-day free trial of Malwarebytes Premium.
PREMIUM FEATURES
🔰 Real-time Protection
– Additional layers of tablet and phone protection which actively stop threats before they take over your device
🔰 Anti-ransomware Protection
– Get comprehensive malware removal and protection from all online threats
– Protect your phone against ransomware–which locks you out of your device and personal files, and then demands payment to restore access
🔰 PUP/PUM Protection
– Our anti-malware scanner detects non-malicious, but probably annoying, software called Potentially Unwanted Programs and Potentially Unwanted Modifications
🔰 Scheduled Scan
– Scheduled Malware Scanner: Automatically scan after a reboot, an update, or any time you choose
🔰 Power Saving Scan
– Perform scans during charge only, or skip scans if battery is low or in power saving mode
🔰 Web Protection/Safe Browsing
– Scan URLs–protecting you from online scams, phishing sites, malicious links–and alerts you when risky sites are detected
– Have a safer browsing experience across all of your devices
– Chrome extension: Use the Malwarebytes Chrome extension to further protect yourself from threats
Note: Malwarebytes for Chromebook is an app engineered specifically to protect your Chromebook. Google Play automatically detects if you are viewing this page on an Android device or a Chromebook and will install the appropriate Malwarebytes product.
Devices we work on:
Devices running Android version 7 or higher with an active Internet connection.
SCREENSHOTS FOR MALWAREBYTES