Very soon, Malwarebytes should announce the release of the stable version of Malwarebytes Anti-Malware 2.0, so lets see what's new and how you can easily run a scan with this great anti-malware product.
What's New in Malwarebytes Anti-Malware 2.0?
Malwarebytes Anti-Malware is an important security program for any computer user to have installed on their computer. It is light-weight, fast, and best of all, excellent at removing the latest infections that may be in the wild. One of the best parts of the program is that not only will it scan your computer free, but it will also remove any malware it finds at no cost to you either.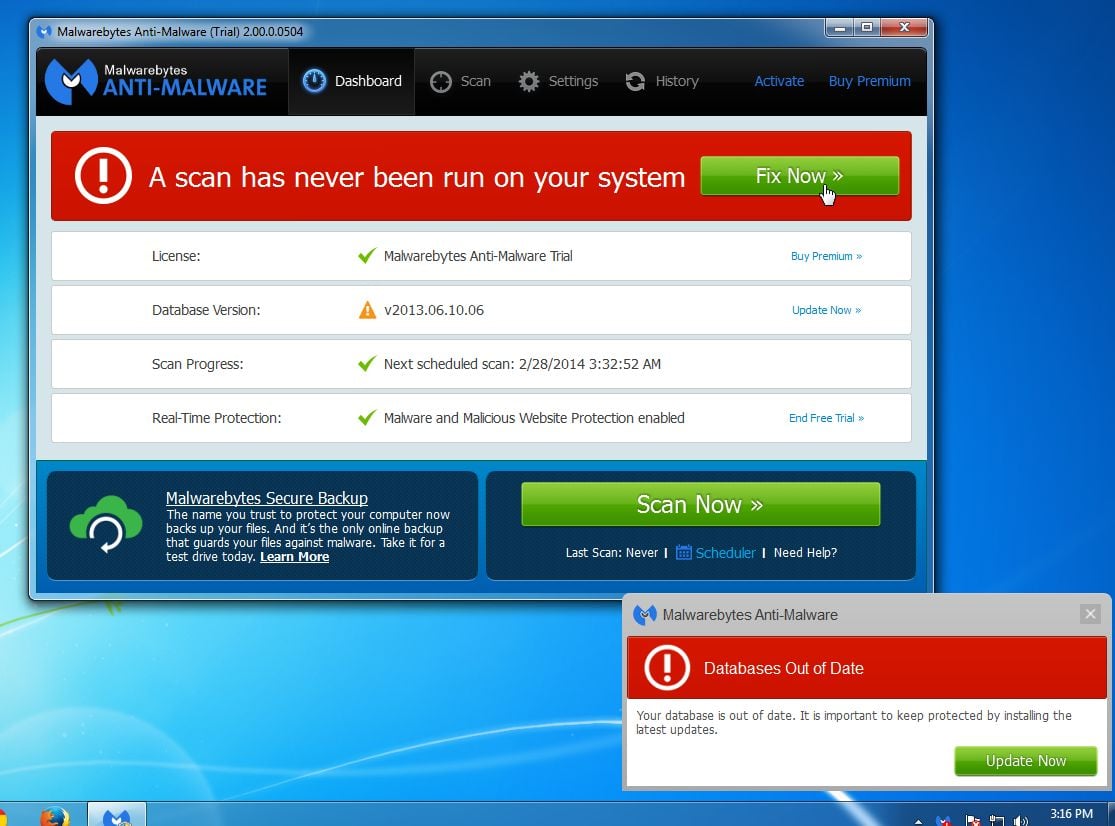 The first change you'll notice in Malwarebytes Anti-Malware 2.0 is the interface, which has been revamped for a more modern look. An opening "Dashboard" displays your protection level, license details, database version, scan and real-time protection status. You can update the program or launch a scan with a click, while "Scan", "Settings" and "History" tabs provide more details and control.
Malwarebytes Anti-Rootkit and Malwarebytes Chameleon are now integrated with Anti-Malware. They're turned off by default, but can be quickly enabled from Settings menu. To do this click on Detection and Protection, check "Scan for rootkits", then click "Advanced Settings" and check "Enable self-protection module").
Malwarebytes says an enhanced Malicious Website Protection offers improved performance and finer control of its actions (you can exclude processes such as BitTorrent clients, as well as IP addresses and URLs or domains from the system).
The new release also gains native x64 system location scanning, while the program has reportedly seen significant improvements in its detection and removal technology.
Most importantly, Malwarebytes Anti-Malware 2.0 detection and removal engine was significantly improved under the hood and kicks even more malware butt! This is without a doubt the biggest rewrite Malwarebytes Anti-Malware has ever undertaken.
What's the difference between Malwarebytes Anti-Malware 2.0 Free and Malwarebytes Anti-Malware 2.0 Premium?
The difference between the paid and the free version of Malwarebytes Anti-Malware, is that Malwarebytes Anti-Malware Premium version will detect and protect your computer against malware in real-time, while the free version will only allow you to scan and remove malware from your machine.
The real-time protection module in Malwarebytes Anti-Malware Premium will block infections as they are created or run from your computer. Malwarebytes Anti-Malware Premium will also block access to know malware distribution sites in order to protect you from web sites that may be trying to redirect you to known malware sites. Last, but not least, the paid version will also allow you to schedule when you want the program to update its definitions. This will enable you to have the latest updates available whenever you scan your computer with program. It is important to note that Malwarebytes Anti-Malware works well and should run alongside antivirus software without conflicts.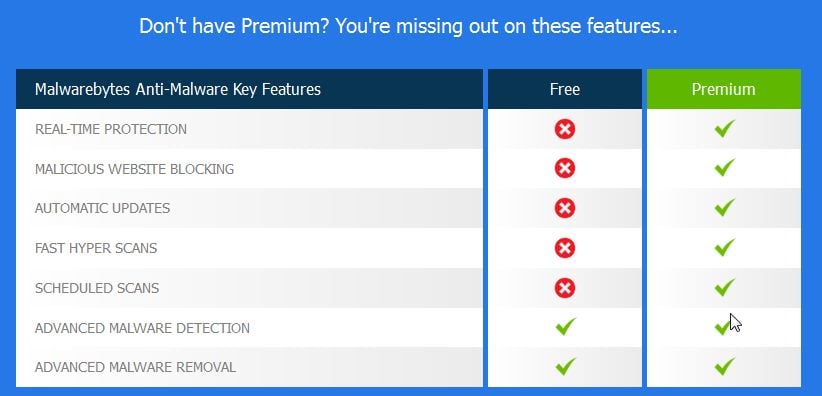 Regardless of whether or not you pay to activate Malwarebytes Anti-Malware, we suggest that you install this program on your computer and perform a routine scan with it at least once a week. This will assure you that your computer is being secured from some the newest infections out there.
How to install and run a scan with Malwarebytes Anti-Malware 2.0 (Easy Guide)
You can download download Malwarebytes Anti-Malware from the below link.
MALWAREBYTES ANTI-MALWARE DOWNLOAD LINK (This link will open a new web page from where you can download Malwarebytes Anti-Malware Free)
Once downloaded, close all programs, then double-click on the icon on your desktop named "mbam-setup-2.0.exe" to start the installation of Malwarebytes Anti-Malware.

You may be presented with a User Account Control dialog asking you if you want to run this file. If this happens, you should click "Yes" to continue with the installation.
When the installation begins, you will see the Malwarebytes Anti-Malware Setup Wizard which will guide you through the installation process.

To install Malwarebytes Anti-Malware on your machine, keep following the prompts by clicking the "Next" button.

Once installed, Malwarebytes Anti-Malware will automatically start and you will see a message stating that you should update the program, and that a scan has never been run on your system. To start a system scan you can click on the "Fix Now" button.

Alternatively, you can click on the "Scan" tab and select "Threat Scan", then click on the "Scan Now" button.

Malwarebytes Anti-Malware will now check for updates, and if there are any, you will need to click on the "Update Now" button.

Malwarebytes Anti-Malware will now start scanning your computer for malware. When Malwarebytes Anti-Malware is scanning it will look like the image below.

When the scan has completed, you will now be presented with a screen showing you the malware infections that Malwarebytes' Anti-Malware has detected. To remove the malicious programs that Malwarebytes Anti-malware has found, click on the "Quarantine All" button, and then click on the "Apply Now" button.

Please note that the infections found may be different than what is shown in the image.
Malwarebytes Anti-Malware will now quarantine all the malicious files and registry keys that it has found. When removing the files, Malwarebytes Anti-Malware may require a reboot in order to remove some of them. If it displays a message stating that it needs to reboot your computer, please allow it to do so.

After your computer will restart, you should open Malwarebytes Anti-Malware and perform another "Threat Scan" scan to verify that there are no remaining threats
If you are still experiencing any issues while trying to perform a scan with Malwarebytes Anti-Malware 2.0, you can start a new thread in our Malware Removal Assistance forum and get free malware removal support.