Pokazn.com is an online store that claims to sell apparel, furniture and garden products and tools at wholesale prices. However, there are many reasons to doubt the legitimacy and reliability of this site. In this blog post, we will review some of the red flags and warning signs that indicate that Pokazn.com is a scam and not a safe place to shop online.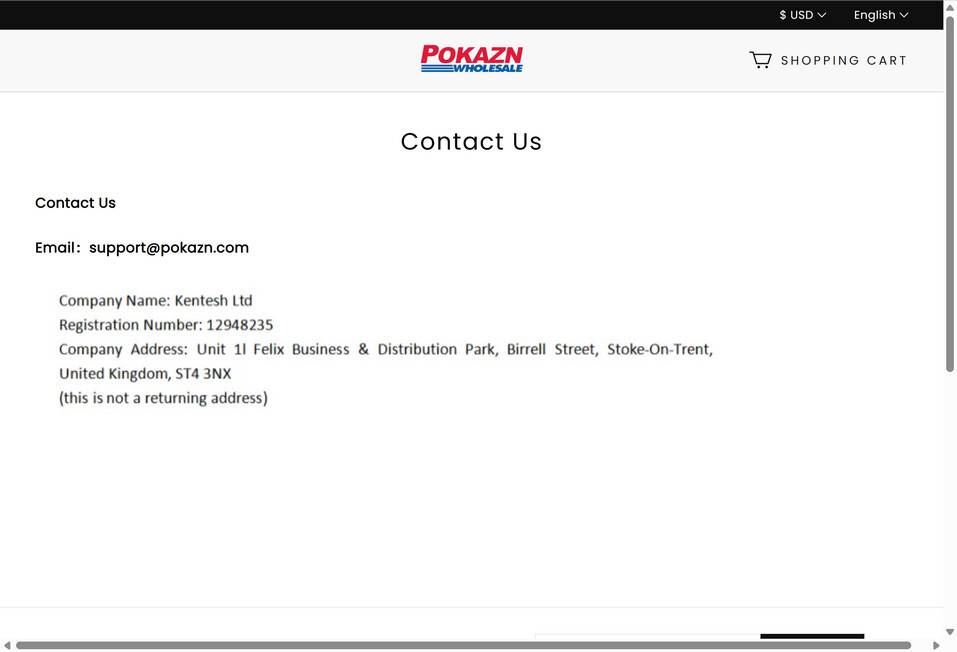 Is it safe to buy from Pokazn.com?
The short answer is no. Pokazn.com is a fake online store that is designed to scam unsuspecting customers. According to various sources , Pokazn.com is not a legitimate business, but a fraudulent website that uses deceptive tactics to lure people into giving away their personal and financial information.
Some of the red flags that indicate that Pokazn.com is a scam are:
Pokazn.com website design is simple and unpolished.
The site appears to have been created using a basic template, which suggests minimal effort has been put into its development. The site's logo is strikingly similar to Costco's emblem, displaying the word "Pokazn" in red letters and the word "WHOLESALE" beneath it. This imitation raises red flags for potential customers, as it seems to be an attempt to deceive users into thinking the site is affiliated with the well-established and trusted brand, Costco
Pokazn.com was recently created. The domain name was registered only a few weeks ago. This is a common sign of a scam website that is created to deceive customers for a short period of time before disappearing.
Pokazn.com is owned by a suspicious company: Kentesh Ltd, the company behind Pokazn.com, is notorious for running many scam online stores and ripping off unsuspecting customers.
Pokazn.com offers products at unrealistically low prices, which are too good to be true.
Certain products with steep discounts are concealed from users, making them inaccessible from the homepage or category pages. The site employs JavaScript code to obscure these discounted products from users accessing the site on a computer. As a result, mobile device users will see a product page, while computer users will encounter an empty page. Some of these hidden products include a Multifunctional Luxury Tool Chest, a Transformers 4-Wheel Remote Control Folding Mobility Scooter, and an Electronics Mystery Box.
A search for customer reviews of Pokazn.com yields no positive results, with some reviewers even claiming the site to be a scam.
The absence of positive feedback and the use of hidden, heavily discounted products as bait for customers serves as a warning sign for potential buyers.
Copied Content: Pokazn.com has stolen most of its content and product images from other legitimate online stores like Alibaba, Amazon, or Aliexpress. This shows that the website has no originality or credibility and is trying to deceive customers with fake products.
What should you do if you have shopped from Pokazn.com?
If you have already shopped from Pokazn.com, you might be wondering what you can do to get your money back or receive your order. Unfortunately, the chances of getting either are very slim. However, here are some steps you can take to minimize your losses and prevent further damage:
Contact your bank or financial institution: If you have paid with your credit card or debit card, you should contact your bank or financial institution as soon as possible and request them to cancel the transaction and refund your money. You should also report the website as a fraudulent site and ask them to block any future charges from it.
Change your passwords: If you have created an account on Strictlymot.com or used the same password for other online accounts, you should change your passwords immediately. You should also enable two-factor authentication for your accounts if possible. This will prevent hackers from accessing your accounts and stealing your personal information.
Beware of phishing emails: You might receive emails from Strictlymot.com or other sources claiming to be related to your order or offering you discounts or refunds. These emails are likely to be phishing attempts that aim to trick you into clicking on malicious links or downloading attachments that can infect your device with malware or steal your information. You should delete these emails and do not open any links or attachments from them.
How to Spot scam shopping sites
Pokazn.com is one of many fake online stores that are proliferating on the internet. These stores use various methods to trick people into giving away their money and personal information, such as phishing emails, pop-up ads, fake coupons, fake reviews, etc. Therefore, it is important to be vigilant and cautious when shopping online, and to do some research before buying anything from an unfamiliar website. Some of the tips to avoid falling victim to online scams are:
Check the Website's URL and Domain Name: Scam websites often use domain names that are similar to well-known brands or include misspellings to deceive users. Always check the URL and domain name for any inconsistencies or errors, and be cautious of websites using domain extensions like .net or .xyz instead of .com.
Examine the Website's Design and Layout: Legitimate online stores typically invest in professional web design and user experience. Scam websites, on the other hand, may have poor design, low-quality images, or a layout that seems hastily put together. Be wary of sites that appear unprofessional or lack attention to detail.
Look for Secure Connections: When shopping online, make sure the website uses a secure connection (https). The 's' in 'https' stands for secure, indicating that your data is encrypted and protected. Avoid making purchases on websites that do not use secure connections.
Evaluate the Website's Contact Information: Scam websites often provide limited or fake contact information. Legitimate online stores typically have detailed contact information, including a physical address, phone number, and email address. Be cautious of sites with only a contact form or generic email address.
Research Customer Reviews and Testimonials: Before making a purchase, search for customer reviews and testimonials to gauge the website's reputation. Scam websites may have fake or no reviews at all, while legitimate sites usually have a mix of positive and negative feedback. Be cautious of sites with overwhelmingly positive reviews, as they may be fabricated.
Assess the Website's Return and Refund Policy: Legitimate online stores typically have clear and fair return and refund policies. Scam websites may have vague or non-existent policies, making it difficult for customers to return items or receive refunds. Always read the return and refund policy carefully before making a purchase.
Beware of Unrealistic Deals and Discounts: If a deal seems too good to be true, it probably is. Scam websites often lure customers with heavily discounted or free products to obtain their personal information and credit card details. Be cautious of websites offering unbelievably low prices or products that are consistently out of stock.
Verify Payment Methods: Reputable online stores typically offer multiple, secure payment options, such as credit cards, PayPal, and other digital wallets. Scam websites may have limited or suspicious payment methods, like direct bank transfers or cryptocurrency, which can be difficult to trace and recover.
Check the Website's Privacy Policy: A legitimate online store should have a clear and comprehensive privacy policy, explaining how they collect, use, and protect your personal information. Scam websites may have vague or non-existent privacy policies, putting your data at risk.
By following these tips, you can protect yourself from online scams and shop safely on the internet.