About This Tech Support Scam

These fake error messages are shown by malicious sites that will put your browser on full screen and display pop-up messages that won't go away, essentially locking your browser.

The fake error messages are shown in such a way as to trick the user into thinking that a virus has been detected on their device. It does this to try and scare Windows or Mac users into calling one of the listed numbers in order to receive support. In reality, though, they will only be greeted with people who are trying to sell them unneeded support contracts and services.

The scammers will typically attempt to get the victim to allow remote access to their device.
After remote access is gained, the scammer relies on confidence tricks typically involving utilities built into Windows, Mac and other software in order to gain the victim's trust to pay for the supposed "support" services, when the scammer actually steals the victim's credit card account information.

Microsoft or Apple will never send unsolicited email messages or make unsolicited phone calls to request personal or financial information or fix your device.
Treat all unsolicited phone calls or pop-ups with skepticism. Do not provide any personal information.
Always keep in mind that Microsoft or Apple's error and warning messages never include phone numbers
These fake error messages are nothing more than a scam. Microsoft or Apple error and warning messages never include a phone number. Treat all unsolicited phone calls or pop-ups with skepticism. Do not provide any personal information.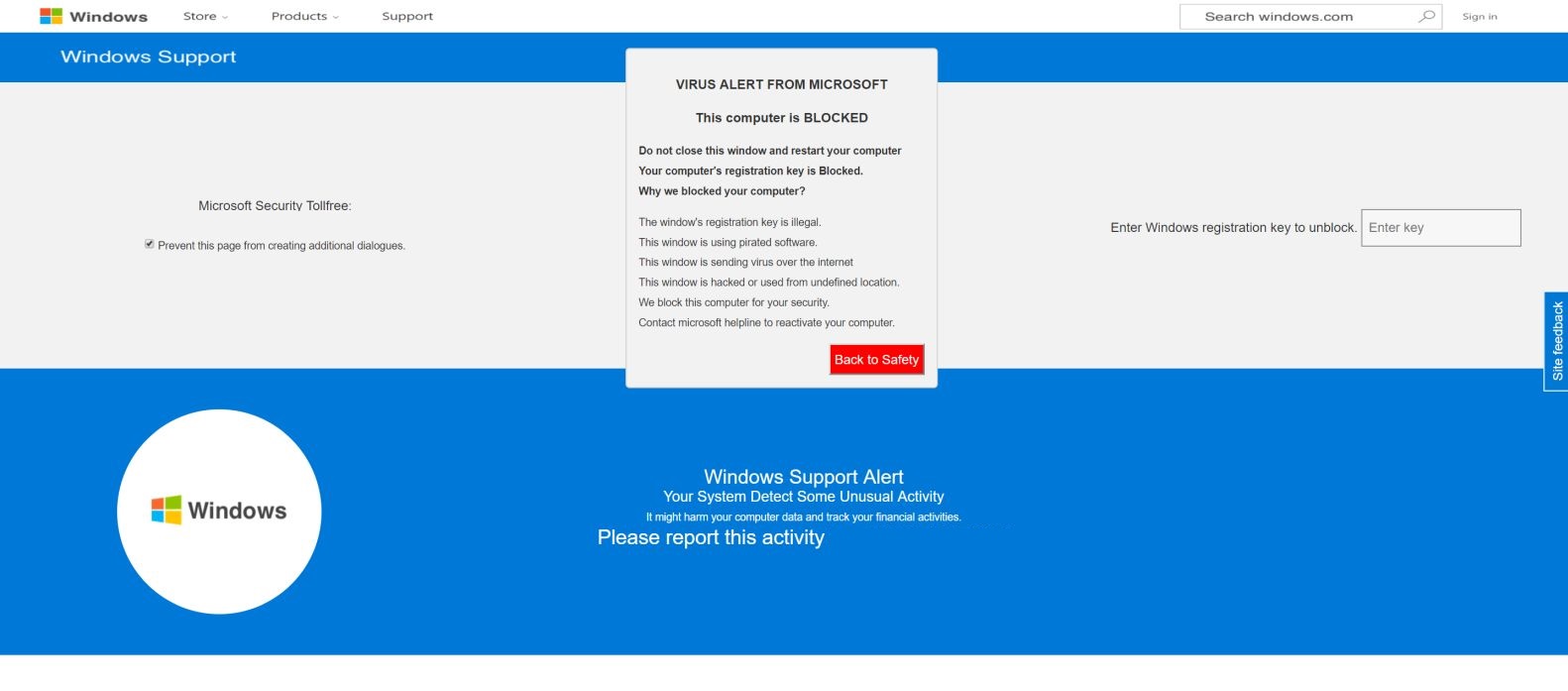 When the fake error messages are displayed in your browser it will contain text similar to the following:
VIRUS ALERT FROM MICROSOFT
This computer is BLOCKED
Do not close this window and restart your computer
Your computer's registration key is Blocked.
Why we blocked your computer?
The window's registration key is illegal.
This window is using pirated software.
This window is sending virus over the internet.
This window is hacked or used from undefined location.
We block this computer for your security.
Contact microsoft helpline to reactivate your computer.
Windows Support Alert
Your System Detected Some Unusual Activity.
It might harm your computer data and track your financial activities.
Please report this activity
Recommended Actions

We recommend that you close the browser pop-up page and ignore this fake error message. If you have paid for any of these "support services", you should call your bank or credit card provider to reverse the charges.

If you cannot close the browser window, please follow the below steps:

For Windows devices:

Open Task Manager by right-clicking the taskbar and then clicking Start Task Manager. Alternatively to start the Windows Task Manager, you can press Ctrl+Alt+Del and click on Task Manager or simply press on Ctrl+Shift+Esc.
Scroll through the list till you see your web browser's process and left-click on it once so it becomes highlighted. Once you have selected the browser's process, click on the End Task button as show in the picture below.
Your browser window should now be closed. The next time you open your browser, do not allow the browser to open the last opened page.

If you have paid for any "support services", you should call your bank or credit card provider to reverse the charges.

For Mac devices:

Press Command + Option + Escape simultaneously. This will open the open the Force Quit Applications window.

Select Safari, Chrome, Firefox or any other browser in which your are seeing the Tech Support Scam pop-up.

Click the button that says "Force Quit". This will forcefully end your browser.

If you cannot switch from the unresponsive app, press Command + Option + Shift + Esc for three seconds to force it to quit. This key combination tells OS X to force quit the frontmost app.Alternatively, if you are using Safari or any other browser, you can disconnect your Internet, then open the web browser, navigate from the malicious web page, then reconnect to the Internet.

If you suspect that your computer might be infected with malware, we recommend that you run a scan with Malwarebytes Free. Malwarebytes is one of the most popular and most used anti-malware software for Windows, and for good reasons. It is able to destroy many types of malware that other software tends to miss, without costing you absolutely nothing. When it comes to cleaning up an infected device, Malwarebytes has always been free and we recommend it as an essential tool in the fight against malware. The first time you install Malwarebytes, you're given a free 14-day trial of the premium edition, which includes preventative tools like real-time scanning and specific protection from ransomware. After two weeks, it automatically reverts to the basic free version that will detect and clean up malware infections only when you run a scan. It is important to note that Malwarebytes will run alongside antivirus software without conflicts.

Download Malwarebytes.


You can download Malwarebytes by clicking the link below.

Double-click on the Malwarebytes setup file.


When Malwarebytes has finished downloading, double-click on the mb3-setup-consumer-x.x.x.xxxx.exe file to install Malwarebytes on your PC. In most cases, downloaded files are saved to the Downloads folder.
You may be presented with an User Account Control pop-up asking if you want to allow Malwarebytes to make changes to your device. If this happens, you should click "Yes" to continue with the installation.


Follow the on-screen prompts to install Malwarebytes.


When the Malwarebytes installation begins, you will see the Malwarebytes Setup Wizard which will guide you through the installation process. To install Malwarebytes on your PC, click on the "Agree and Install" button.

Click on "Scan Now".


Once installed, Malwarebytes will automatically start and update the antivirus database. To perform a system scan, click on the "Scan Now" button.

Wait for the Malwarebytes scan to complete.


Malwarebytes will now start scanning your computer for adware and other malicious programs. This process can take a few minutes, so we suggest you do something else and periodically check on the status of the scan to see when it is finished.


Click on "Quarantine Selected".


When the scan has completed, you will be presented with a screen showing the malware infections that Malwarebytes has detected. To remove the malicious programs that Malwarebytes has found, click on the "Quarantine Selected" button.

Reboot your computer.


Malwarebytes will now remove all the malicious files and registry keys that it has found. To complete the malware removal process, Malwarebytes may ask you to restart your computer.