Apple has introduced its new MacBook lineup in a public press conference a couple of days ago, and just like it happens when the company takes the wraps off new devices, it praised every single little thing of the new model, saying that it's more powerful, thinner, faster, offers longer battery life, and has better specs.
What Apple hasn't mentioned, however, is that the new MacBook is also more expensive, and when we say that, we actually mean that it's
a lot
more expensive. The top-of-the-range Apple MacBook Pro costs no less than $4,299 (as you can see in the photo attached to this article) and this without even opting for pre-installed software such as Final Cut Pro X and Logic Pro X, which would add another $500.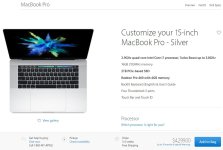 For this price, you get a 15-inch MacBook Pro in silver and powered by a 2.9 GHz quad-core Intel Core i7 processor, with turbo speed up to 3.8 GHz, 16GB RAM, 2TB SSD storage, Radeon Pro 460 graphics with 4GB memory, a backlit keyboard, four Thunderbolt 3 ports, Touch Bar and Touch ID.
But for the exact same price, you can also get any of the following (which at first glance might actually bring more benefits than this new Apple thing):
1. A Surface Studio All-in-One PC priced at $4,199 for the top configuration, and you still have $100 left to pay dinner at a fancy restaurant.
2.
Half of a Dacia Sandero
3. A trip to Paris (from the US, first-class tickets could cost up to $2,000, an exquisite hotel room could set you up to $1,000 for a weekend, and you still have $1,000 for shopping)
4.
David Bowie's hair
5. 4,299 $1 ice-creams
6. A
Titanium toothbrush
that promises the best dental care ever
7. 635 jars of Nutella at $6.76 each
8. Play the lottery and hope to make $16,000 so you can buy a Victoria's Secret show ticket
9. 191 acres of land on Mars at $22.49 per acre (plus tax)
10.
Lease an elephant
We can always use a good laugh every once in a while