Homepage:
Airo Malware Protection | Exclusively for MacOS
Privacy terms:
Privacy Policy - Airo
Airo Web Protection keeps you away from malicious websites, programs and scripts.
Airo keeps your browsing safe, and your personal data secure by preventing attacks, steering you away from sketchy sites, monitoring downloads, and blocking unwanted ones.

Airo was created by a team of experienced pros with a mission to protect Mac users and online users from sneaky online scams. We identify malicious sites and download offers by their content and origin, not just by URL.
Safari:
Apple - Safari - Safari Extensions Gallery
Chrome:
Airo Web Protection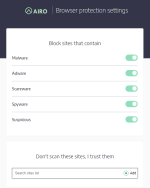 More Info:
https://www.crunchbase.com/organization/airo-security