Armageddon Apocalypse Soon?
Stories of technological threat—and hope
Apocalypse, a 1903 painting by Albert Goodwin
For this issue, I asked top experts to tell stories of technology-related doomsdays the world might soon face if specific threats go unaddressed, not to frighten readers, but, in the tradition of the Clock, to alert them, so they might act in time, making a loud and unmistakable demand: that the Earth be preserved, that the human experiment be extended, that midnight never toll.
Why we're publishing an issue full of Doomsday descriptions.
- read more: on thebulletin.org:
Stories of technological threat—and hope - Bulletin of the Atomic Scientists
Albert Goodwin (artist) : on wikiwand.com:
Albert Goodwin (artist) | Wikiwand
The Great Contraction, 2045-2106 C.E.
For decades, individual geologists, biologists, and others had warned of the unforgiving math of production versus demand in over a dozen critical resources. Branded as alarmists or apocalyptics, their words were largely ignored, or at best considered suitable material for consideration only by academics.
By 2035, it was impossible for even the foolish or the stubborn to ignore the savage reality of what would come to be called "The Great Contraction".
Critical rare earth minerals, indium, antimony, cobalt, and other resources integral to the basic functioning of the technological economy became increasingly expensive to acquire, but the relative inconvenience of these was nothing compared to the cardinal problem of demand outstripping supply in those most critical of all resources - arable topsoil, phosphorous for fertilizer, petroleum, and fresh water.
The result did not come overnight or quickly, but the devastation it eventually left in its wake would paint even the infamous Black Death as a mere footnote. The result came in billions dead; by war, by plague - but most of all by the cold hand of famine.
The formal beginning of The Great Contraction was later set as 2045 C.E., the first year of the modern era where the total human population fell rather than rose. The ending came sixty-one long years later when that trend finally reversed.
The collapse did not begin overnight. ...
-read more: on jubal.com:
The Great Contraction, 2045-2106 C.E. | Jubal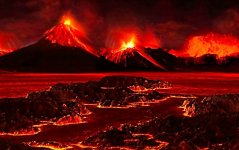 ...Permian extinction - extincao-relampago - by José-Luis Olivares - enh. 1366x859.jpg
Last edited: