In October 2019, the CheckLab.pl organization prepared a summary of popular free applications to protect personal computers. So what is the best free antivirus? It is difficult to answer this question because a variety of free solutions makes the decision is not so obvious, additionally only big developers can offer relatively good protection. It is important to remember that free antivirus do not protect against all types of attacks. Free security software does not have the variety of functionality as commercial equivalents, so free antivirus should be at least complemented by a safe browser for online banking as well as a set of browser extensions to improve privacy and data protection.
In two paragraphs [...]:
Comparison of free and paid antivirus - what are the differences?
What is missing in free products?
[...] we tried to explain the differences between free and paid security products.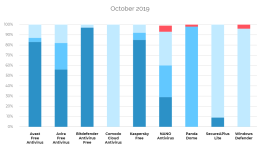 You can read full report at:
Comparison of free security product to protect personal computers
Chart and table:
Recent results
Awards:
Awards
And about CheckLab:
About us