Level 12
Thread author
Verified
Top poster
Well-known
Came across this and was just updated. Might be very handy!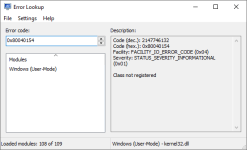 Description​
Portable open source tool which can help by translating error codes into a more meaningful text description. The interface is simple - just a box to type your code, and another which displays the details - so there doesn't seem much to learn.
The program also supports a wide range of codes: regular Windows errors, DirectX, NTSTATUS errors, Windows Internet errors, STOP codes, And we think it can probably be configured to read more (Settings > System modules), although there's no documentation to confirm that and we didn't test it.
The lightweight application is less than a megabyte, and it is compatible with Windows XP SP3 and higher operating systems. You can download either the installer or portable version.