Level 19
Thread author
Verified
Top Poster
Well-known
"On Dec. 23, 2022, KrebsOnSecurity
alerted
big-three consumer credit reporting bureau
Experian
that identity thieves had worked out how to bypass its security and access any consumer's full credit report — armed with nothing more than a person's name, address, date of birth, and Social Security number. Experian fixed the glitch, but remained silent about the incident for a month. This week, however, Experian acknowledged that the security failure persisted for nearly seven weeks, between Nov. 9, 2022 and Dec. 26, 2022.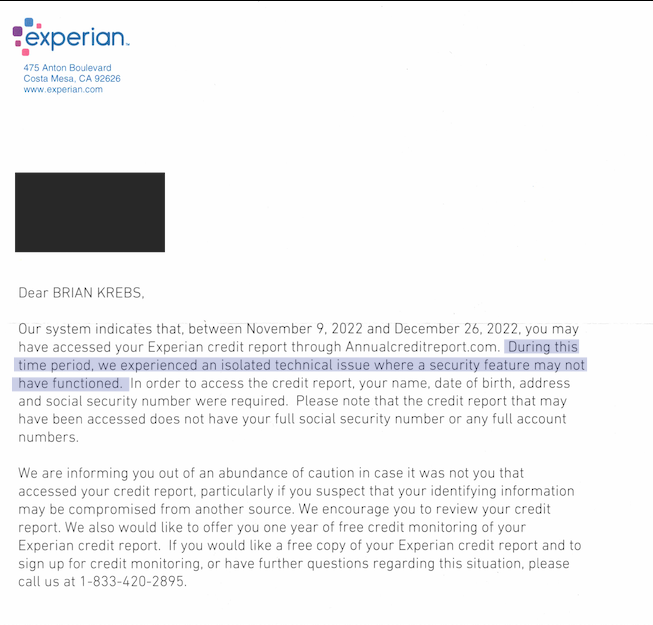 The tip about the Experian weakness came from
Jenya Kushnir
, a security researcher living in Ukraine who said he discovered the method being used by identity thieves after spending time on
Telegram
chat channels dedicated to cybercrime.
Normally, Experian's website will ask a series of multiple-choice questions about one's financial history, as a way of validating the identity of the person requesting the credit report. But Kushnir said the crooks learned they could bypass those questions and trick Experian into giving them access to anyone's credit report, just by editing the address displayed in the browser URL bar at a specific point in Experian's identity verification process.
When I tested Kushnir's instructions on my own identity at Experian, I found I was able to see my report even though Experian's website told me it didn't have enough information to validate my identity. A security researcher friend who tested it at Experian found she also could bypass Experian's four or five multiple-choice security questions and go straight to her full credit report at Experian.
Experian
acknowledged receipt of my Dec. 23 report
four days later on Dec. 27, a day after Kushnir's method stopped working on Experian's website (the exploit worked as long as you came to Experian's website via
annualcreditreport.com
— the site mandated to provide a free copy of your credit report from each of the major bureaus once a year).
Experian never did respond to official requests for comment on that story. But earlier this week, I received an otherwise unhelpful letter via snail mail from Experian (see image above), which stated that the weakness we reported persisted between Nov. 9, 2022 and Dec. 26, 2022...."