Level 21
Thread author
Verified
Honorary Member
Top Poster
Malware Hunter
Well-known
Hello all!
Seems like with latest beta, FS changed from Bitdefender to Avira engines.
Detection names speak for themselves: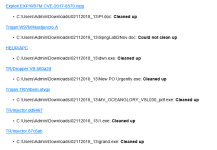 Old engine was
Aquarius
(with Bitdefender signatures), new one is named
Capricorn
(with Avira signatures).
Quoting F-Secure team member
"Aquarius has been replaced with our new Capricorn engine. Capricorn is our new cloud-hybrid file and URL analysis service for F-Secure's endpoint products — for all platforms."
What do you think about such switch? One instant change I saw is smaller size of signature's folder (couple of hundred of megabytes).
Last edited: