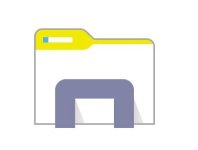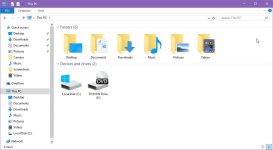 Microsoft today rolled out a
massive update for Windows 10 preview
builds and in addition to a plethora of new features, the company also introduced a completely new icon for File Explorer.
The default file manager on Windows 10 PCs, File Explorer has been around for many years (it was previously known as Windows Explorer), but its looks and features have barely changed in the latest Windows versions.
Users, however, are still hoping for a bigger overhaul of the app and one of the main requests is support for tabs that would make it easier to work with multiple folders in a single window.
New almost-monochrome icon
In the meantime, Microsoft is working on making File Explorer better match the looks of Windows 10, so the company introduced a new icon that follows the monochrome design language used for the other icons in the operating system.
"You will notice a little bit of color still present in the icon. The design team was a bit hesitant to completely let go of the yellow because it has become such a familiar part of the File Explorer branding," Gabe Aul, head of the Windows Insider program, explained.
"They explored a variety of different ways to keep the yellow and still match the cleanliness of the black and white Windows app icons. The new icon you see in this build is where the design team landed that is closer to monochrome, but still has the familiar shape that users recognize, and has a nod to the yellow that you see all throughout File Explorer. Let us know what you think."
Fortunately, there's still hope that a
bigger revamp of File Explorer
could arrive and a Microsoft employee confirmed it earlier this year, saying that "we are working on a total update of File Explorer." While it's not very clear what this total update means, many believe that it'll be a universal app version debuting in the upcoming Redstone (Anniversary Update) coming in the summer.
For the moment, however, it appears that this project is just not ready yet, so we have to wait a little bit longer to see what Microsoft has been working on for the past few months.
Full Article:
File Explorer Gets New Icon in Windows 10 As Everyone Is Waiting for Tabs