Hello there!
While trying to download an cracked application via torrent, I somehow managed to infect me PC with an malware/adware/rootkit. I was able to have Zemana and Malware Bytes (free trial version) installed before the real issues begun which was able to block all the link hijacking and auto web page opening attacks but seems like I have a System Null Process running in my background with very high CPU usage, which under further investigation lead me to believe that it is redirected to svchost.exe under the SysWOW64 folder which is situated in C:\Windows.
While Zemana and Malwarebytes both detect the issues Zemana directs the issue to svchost.exe and Malwarebytes shows Malware, after "fixing' the issue and a reboot the same issues re-appear again while performing another scan.
Moreover, While trying to download FRST/RKill/Rouge Kill my browser (Chrome/Firefox/Edge/Opera) automatically closes. Even more anything which I try to download containing the keyword "Anti-Malware", "Anti-Rootkit", "Anti-Virus", gives me the same results.
I am hereby attaching my full scan report of FRST which includes FRST, Addition and Shortcut analysis which has been done in Windows Safe Mode for your kind help!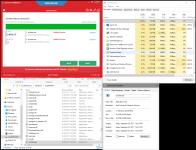 Last edited: