Level 6
Thread author
Verified
Well-known
Hello everyone from the community!
I am currently using Bitdefender, but I have a 3 year license of ESET Smart Security Premium (I had already used ESET for 3 years). I got a file here (which I downloaded from the internet), which is an activator of the Windows operating system, the only antivirus that detected the file as malicious is ESET. I am impressed to see how powerful ESET's detection engine is compared to other software that.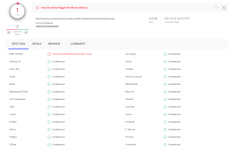 File scan
:
Virustotal
I'm thinking about going back to using ESET because all the malware I caught to test on the
MalwareBazaar
website was detected even though they were very recent, I even saw the detection being done by ML-Augur.
I am impressed to see how sensitive ESET is with regards to PUP/Adware detection. What is your opinion about the product? Is it worth switching to this product even if I lose remote control functionality (example Bitdefender Central)?
Sorry for this post, maybe unnecessary but I was impressed to see that only ESET detected the file.
Thank you guys from the community.
Last edited by a moderator: