MRG Effitas's Q1 2019 360 Assessment and Certification has been released on May 20, 2019. Eleven products were tested on 339 in-the-wild samples on a Windows 10/7 x64 test bench with Chrome.
Products Tested:
Avast Business Antivirus 19.3.2554
Avira Antivirus Pro -Business edition 15.0.45.1184
BitdefenderEndpoint Protection Elite 6.6.10.146
CrowdStrike FalconProtect 4.26.8904.0
Microsoft Windows DefenderEngine: 4.18.904.1
ESET Endpoint Protection 7.0.2091.0
F-Secure Computer Protection Premium 19.2
Kaspersky Small Office Security 19.0.0.1088 (d)
McAfee Endpoint Security 10.6.0.542
Symantec Endpoint Protection 22.17.0.183
Trend MicroWorry-Free Business Security 20.0.1049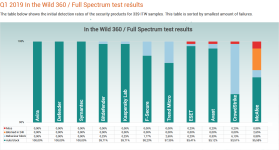 Additional tests (ransomware, financial malware, PUA/Adware, Exploit/Fileless, FP, and Performance) as well as the methodology can be found in the full report.