Level 84
Thread author
Verified
Helper
Top poster
Content Creator
Malware Hunter
Well-known
A number of rogue Android apps that have been cumulatively installed from the official Google Play Store more than 50,000 times are being used to target banks and other financial entities.

The rental banking trojan, dubbed

Octo

, is said to be a rebrand of another Android malware called ExobotCompact, which, in turn, is a "lite" replacement for its Exobot predecessor, Dutch mobile security firm ThreatFabric

said

in a report shared with The Hacker News.
The ultimate goal, ThreatFabric said, is to trigger the "automatic initiation of fraudulent transactions and its authorization without manual efforts from the operator, thus allowing fraud on a significantly larger scale."

Other notable features of Octo include logging keystrokes, carrying out overlay attacks on banking apps to capture credentials, harvesting contact information, and persistence measures to prevent uninstallation and evade antivirus engines.

"Rebranding to Octo erases previous ties to the Exobot source code leak, inviting multiple threat actors looking for opportunity to rent an allegedly new and original trojan," ThreatFabric noted.
"Its capabilities put at risk not only explicitly targeted applications that are targeted by overlay attack, but any application installed on the infected device as ExobotCompact/Octo is able to read content of any app displayed on the screen and provide the actor with sufficient information to remotely interact with it and perform on-device fraud (ODF)."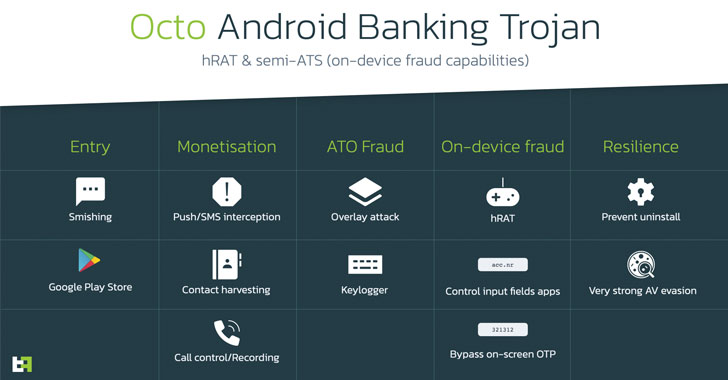 Rogue Android apps on Google Play Store are infecting users' devices with the Octo Banking Trojan, which targets banks and other financial institution

thehackernews.com