Joined

Jan 10, 2019
Messages

1
Operating System

Windows 10
When I open my browsers, it automatically brings me to some advisurf browser and stuff. I tried using malwarebytes to scan it but nothing appeared. Could I get some help on how I should delete this thing? I also searched advisurf in my finder and found this file. But when I tried to delete it, and error popped up and the file never showed up again. So yeah, I don't know what to do. I've also attached a malware bytes scan summary that I did after I did all of that.(don't know if that helps).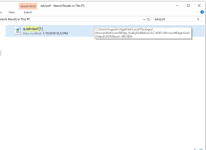 Operating System

Windows 10
Current issues and symptoms

Redirects my browsers to q.advisurf.com
Steps taken in order to remove the infection

malwarebytes scan, searching control panel, searching it in the finder.