Level 66
Thread author
Verified
Top poster
Well-known
A question was raised on Wilders about Windows Defender Sandbox recently and it got me thinking: Has WD sandbox been incorporated into Tamper Protection? M$ as usual provides little documentation and the two official sources I know of are these:
Tamper Protection
and
Windows Defender Sandbox
. They are very general explanations and I can find no other current official explanation about them.
Previously, when WD Sandbox was enabled you would see this
I was curious so I enabled WD Sandbox on my system and here is what I see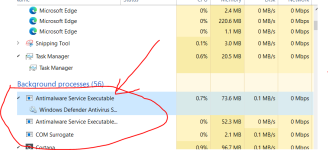 Clearly the names are not the same in these two images.
I understand some of WD's processes have new names in 1903+ and this only complicates things more in terms of finding answers to my question. Any Windows gurus are free to offer there expertise or opinions.