Level 11
Thread author
Verified
Top poster
Well-known
Bochum-based cyber defence company expands product portfolio
With

G DATA VPN

, Bochum-based IT security company G DATA CyberDefense has introduced a new solution for securing Internet traffic. Customers can benefit from the company's decades of experience, the no-backdoor guarantee and quality "Made in Germany". Up to ten devices can be secured for one year with one licence, at the introductory price of 39.95 euros.

G DATA VPN quickly and reliably protects Internet users and their privacy from the prying eyes of others. The app provides unlimited encrypted data traffic on up to 10 Windows, Android and iOS devices. Almost 2,000 high-speed VPN servers at more than 75 locations worldwide ensure the greatest possible anonymity and security when accessing websites. Users can also access content that is not actually available at their respective location.
Benefits of G DATA VPN​

Encrypted data traffic: Securing of unsecured connections - both at home and on public WLANs
Privacy: Strict No Logging policy at G DATA CyberDefense
Unrestricted access to content: Bypass country-specific access restrictions applied to online media and websites.
Anonymous surfing on almost 2,000 VPN servers in more than 75 locations worldwide

What is a VPN?​

VPN stands for a Virtual Private Network, which allows you to disguise IP addresses and establish an encrypted connection to the Internet. A VPN service also helps you circumvent artificial access restrictions to media and websites or censorship. With just one click, it relocates your IP address to another country that is not affected by the restrictions.

More information, including system requirements, can be found at
With G DATA VPN, you can prevent spying and snooping by cybercriminals, government agencies and powerful digital corporations - at home and on the go.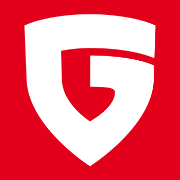 www.gdatasoftware.com
Last edited by a moderator: