Level 62
Thread author
Verified
Helper
Top poster
Content Creator
Well-known
During September and October 2021 we continuously evaluated 18 endpoint protection products using settings as provided by the vendor. We always used the most current publicly-available version of all products for the testing. They were allowed to update themselves at any time and query their in-the-cloud services. We focused on realistic test scenarios and challenged the products against real-world threats. Products had to demonstrate their capabilities using all components and protection layers.
Test results:
The current tests of antivirus software for Windows 10 from June 2022 of AV-TEST, the leading international and independent service provider for antivirus software and malware.
www.av-test.org
Excel file:
https://www.av-test.org/fileadmin/Tests/Data/2021/avtest_summary_business_windows_2021-10.xlsx
Charts: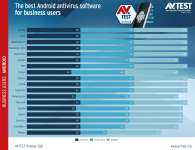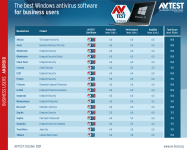 Titles in the charts are incorrect...
https://www.av-test.org/fileadmin/Tests/Charts/2021/avtest_charts_business_windows_2021-10.zip
Last edited: