No Windows Insider build needed!
What is Your Phone app?
With Your Phone app, get instant access to your Android phone's photos, right on your computer. Just drag and drop.
Requirements:
Android 7.0 or higher
iPhone support coming soon
How to:
Install Your Phone app onto a Windows 10 April 2018 computer [Microsoft Store - Your Phone app] and launch.
Enter your Android phone number to receive a SMS (see below for link)
You will receive a link to the Microsoft app [Google Play Store - Microsoft Apps app]
Sign into Microsoft Apps app and follow instructions (Ignore Join Insider builds)
Allow permission to access Storage (media files) on Android
Wait for Your Phone app to load and Send Notification to connect (see image)
Allow permission on Android (from Microsoft Apps notification)
You can send Feedback from the app on PC.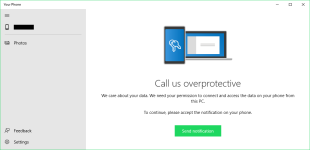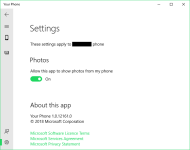 If you use device ad-blocker on Android, please whitelist the app. If it does not work, the Your Phone app is still in beta.
Your Phone app now works with PCs on the Windows 10 April 2018 Update. While it's still in beta, you still won't be able to just stumble upon the app in the Microsoft Store, however. Instead, you need to navigate to the app's

store listing on the web

and open it in the Microsoft Store app from there.

To recap, the Your Phone app is fairly limited in its functionality at the moment. You can currently only use it to view photos you've taken on your Android phone, but Microsoft plans to make its feature set more robust in the future, with the ability to handle notifications and messaging. The company will also make some features available for iPhone users, but they'll be more limited in what they can do.