MacWizz is an adware program, that displays pop-up ads and advertisements on web pages that you visit. These advertisements will be shown as boxes containing various coupons that are available, as underlined keywords, pop-up ads or advertising banners.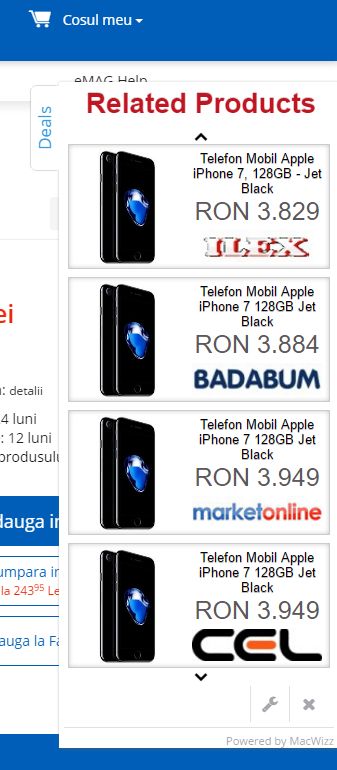 What is MacWizz?
MacWizz is advertised as an application that displays coupons for sites you are visiting and competitive prices when you are viewing product pages at sites like Amazon. Though this may sound like a useful service, the MacWizz app can be intrusive and will display advertisements whether you want them to or not.
When installed, the MacWizz browser extension will display advertising banners, pop-up advertisements and in-text ads, stating that they are brought to you by "MacWizz". The MacWizz Ads will have different text under the pop-up: "Powered by MacWizz", "Brought to you by MacWizz", "You've received a premium offer from MacWizz" or "Ads by MacWizz".
These ads are aimed to promote the installation of additional questionable content including web browser toolbars, optimization utilities and other products, all so the publisher can generate pay-per-click revenue.
When infected with MacWizz the common symptoms include:
Advertising banners are injected with the web pages that you are visiting.
Random web page text is turned into hyperlinks.
Browser popups appear which recommend fake updates or other software.
Other unwanted adware programs might get installed without the user's knowledge.
How did got MacWizz on my computer?
MacWizz is a malicious app that is commonly bundled with other free programs that you download off of the Internet.
Unfortunately, some free downloads do not adequately disclose that other software will also be installed and you may find that you have installed MacWizz without your knowledge.
You should always pay attention when installing software because often, a software installer includes optional installs. Be very careful what you agree to install.
Always opt for the custom installation and deselect anything that is not familiar, especially optional software that you never wanted to download and install in the first place.
It goes without saying that you should not install software that you don't trust
How to remove Ads by MacWizz adware from Apple Mac OS
This malware removal guide may appear overwhelming due to the amount of the steps and numerous programs that are being used. We have only written it this way to provide clear, detailed, and easy to understand instructions that anyone can use to remove malware for free.
Please perform all the steps in the correct order. If you have any questions or doubt at any point,
STOP
and
ask for our assistance
.
To remove MacWizz Ads, follow these steps:
STEP 1: Uninstall MacWizz from your Mac OS
In this first step, we will try to identify and remove any malicious program that might be installed on your device. The bellow video will explain how to remove "MacWizz" app from your machine.
The malicious app may have a different name on your device. If you cannot find any unwanted apps on your device, then you can proceed with the next step.
STEP 2: Remove MacWizz extension from your browser
Safari
From the Safari menu, select "Preferences".

In the Safari Preferences window, click the "Extensions" tab. Find the "MacWizz" plugin, then click on the "Uninstall" button.

This infection can add more than one extension, it is recommended that you remove all unknown extensions from Safari.
Known malicious extensions: MacSaver, MacVX (and variants like MacVaX), MacCaptain, MacPriceCut, SaveOnMac, Mac Global Deals or MacDeals, MacSter, MacXcoupon, Shop Brain (or variants like SShoP Braaiin), PalMall, MacShop, MacSmart, News Ticker Remover, Shopper Helper Pro, Photo Zoom, Best YouTube Downloader, ArcadeYum, Extended protection, Video download helper, FlashFree or GoldenBoy.

Next, select "Preferences", go to the "General" tab and change the "Default Search Engine" to Google. Then, in the "General" tab, find the "Home Page" and change it to "google.com".
Google Chrome
Click on Chrome's main menu button, represented by three horizontal lines. When the drop-down menu appears, select the option labeled Settings.

Chrome's Settings should now be displayed in a new tab or window, depending on your configuration. Next, scroll to the bottom of the page and click on the Show advanced settings link (as seen in the below example).

Chrome's advanced Settings should now be displayed. Scroll down until the Reset browser settings section is visible, as shown in the example below. Next, click on the Reset browser settings button.

A confirmation dialog should now be displayed, detailing the components that will be restored to their default state should you continue on with the reset process. To complete the restoration process, click on the Reset button.

Mozilla Firefox
In the Firefox's address bar type: about:support, then click on Enter.
Click the "Reset Firefox" button in the upper-right corner of the "Troubleshooting Information" page.

To continue, click on the "Reset Firefox" button in the new confirmation window that opens.

Firefox will close itself and will revert to its default settings. When it's done, a window will list the information that was imported. Click on the "Finish".
---
(Optional) STEP 3: Perform a system scan with Malwarebytes Anti-Malware for Mac
If you are still experiencing issues with the MacWizz Ads on your Mac OS, we will need to perform a system scan with Malwarebytes Anti-Malware for Mac for malware.
This step should be performed only if your issues have not been solved by the previous steps.
You can download Malwarebytes Anti-Malware for Mac from the below link:
MALWAREBYTES ANTI-MALWARE FOR MAC DOWNLOAD LINK (This link will open a new web page from where you can download "Malwarebytes Anti-Malware for Mac")
One you have downloaded Malwarebytes Anti-Malware for Mac, click on the "Scan" button to start a system check-up.

When the scan has completed, click on the "Remove Selected Items" to remove all the malware that Malwarebytes has detected.

---
You machine should be clean and MacWizz completely removed. If you are still experiencing problems while trying to remove MacWizz adware from your machine, please ask for help in our
Malware Removal Assistance
forum.