Gullgaze.com is a fraudulent online store that you should avoid at all costs. This scam website claims to sell various products at very low prices, but will either send you counterfeit or inferior goods, or nothing at all.
This article will uncover how the Gullgaze.com scam operates, red flags to watch for, and most importantly, tips to protect yourself from being ripped off by this scam site and others like it.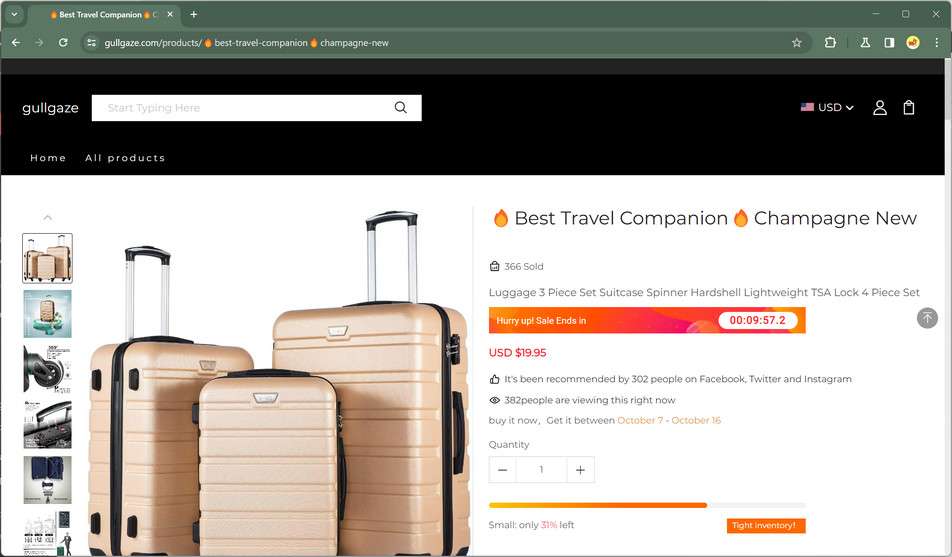 Gullgaze.com Scam Overview
On the surface, Gullgaze.com appears to be a legitimate online retailer selling various discounted items to shoppers at prices significantly lower than major retailers. However, in reality, Gullgaze.com is a scam website that engages in deceptive tactics to trick customers into placing orders and handing over their money or sensitive personal information.
Scammers behind Gullgaze.com use spam emails and social media platforms like Facebook, Instagram, and TikTok to promote the site and lure in victims. This fraudulent site uses incredibly low prices and stolen product images to entice unsuspecting shoppers.
Once victims place orders and submit payment information, the scammers simply take the money and run. Customers are left with one of the following outcomes:
Nothing at all – The most common outcome. Orders go unfulfilled and simply disappear after payments are processed.
Knock-off or inferior substitutes – Victims may receive cheap replicas made with poor-quality materials that do not match the original product descriptions.
Used, damaged, or tampered goods – In some cases, victims report receiving items that are clearly used, broken, or otherwise tampered with, showing that no new products are being shipped.
Completely wrong items – Some orders arrive with products that are completely different from what was ordered, demonstrating no order accuracy.
On top of selling sham goods or no goods at all, Gullgaze.com also unscrupulously collects customers' personal and financial data during checkout, including full names, home addresses, phone numbers, credit card details, and more. This information is likely used or sold for nefarious purposes like identity theft, credit card fraud, or sharing on dark web marketplaces. 
Our research indicates Gullgaze.com is likely part of a larger interconnected scam network based in China. This network operates countless fake online retail sites with the sole intent of defrauding customers.
Red flags show this is an illegitimate business. Legal pages are copied and lack real policies. No contact info is provided to reach customer service. The website owners are anonymous. Unrealistic discounts up to 90% off aim to bait shoppers. All product info is stolen from major retailers. There is no social media presence. 
In conclusion, we advise you to stay away from this dishonest website. Do not fall for the attractive discounts that are used to bait you. The product images are not genuine, and the customer service is nonexistent. You can protect yourself by avoiding Gullgaze.com and similar sites.
How does the Gullgaze.com scam work?
Gullgaze.com relies on various deceptive tactics to dupe bargain hunters into buying nonexistent or fraudulent products. Here is how the scam works:
1. Promoted Through Spam Emails & Social Media Ads
The scammers aggressively promote Gullgaze.com through channels like:
Spam emails with links to the scam site.
Fake advertisements on Facebook, Instagram, and TikTok showing massive discounts on products.
Fraudulent news or review articles praising Gullgaze.com deals.
These techniques aim to manipulate search results and draw victims to the site.
2. Bait and Switch Tactics
Once orders are placed and paid for, customers receive:
Nothing at all, just stolen money.
Cheap counterfeits rather than advertised products.
Used or tampered with items instead of new.
3. Ignores Customer Complaints
When defrauded shoppers try contacting Gullgaze.com for refunds or to report fraud, they are:
Completely ignored.
Met with blocked accounts or emails.
Gullgaze.com is a fraudulent website that lures in victims through deceptive promotions, takes payment but never ships products, and blocks customers who complain. These shady practices allow the scam to continue while avoiding accountable customer service.
Red Flags at Gullgaze.com
Gullgaze.com displays many suspicious signs that it is a fraudulent website masquerading as a legitimate online retailer. Savvy shoppers should watch for these red flags:
Part of a Scam Network

Research indicates that this site is part of a broader interconnected scam network based in China. This network manages an array of fake shopping sites with the sole purpose of defrauding customers.

Copied legal pages

The Terms of Service, Privacy Policy, About Us and other legal pages on this website appear to be copied from known scam websites. Scammers often plagiarize legal pages to make their sites seem more legitimate. However, the policies likely do not apply to this site or protect users in any meaningful way.

Zero Contact Information

No customer service phone number, physical address, or live chat is provided by this site. This lack of contact details prevents customers from reaching the company with issues.

Anonymous Company

This website completely lacks transparency about who owns or operates the business. Opaque sites should not be trusted with purchases or data.

Unrealistic Discounts

Extreme discounts are used to lure shoppers. But legit companies cannot sustain such unrealistic markdowns, signaling counterfeit goods.

Copied Content

All product info and images are stolen from other major retailers. Gullgaze.com lacks any original content showing its illegitimacy.

No Social Media Presence

Authentic brands maintain social media pages for customer engagement. Gullgaze.com's total lack of accounts is highly unusual and suspicious.
Based on the above red flags, we can conclude that Gullgaze.com is a scam website that should be avoided by online shoppers. There is no evidence that Gullgaze.com is a legitimate or reliable website that delivers quality products or services to its customers.
Therefore, we advise you not to shop from Gullgaze.com or any other similar websites that display the same red flags. You will only risk losing your money and personal information to scammers who do not care about your satisfaction or safety.
How to Spot and Avoid Scam Online Shopping Websites like Gullgaze.com
While scam sites are sophisticated, there are several red flags to watch for when shopping online:
Examine the URL – Fake sites often use misspelled or slightly different URLs. Search for reviews of unfamiliar sites.
Check contact information – Legitimate sites provide working customer service numbers, emails, and physical addresses. Scams list fake ones.
Look for the lock icon – Secure sites use HTTPS connections and SSL certificates to encrypt data. Non-HTTPS sites are risky.
Search for hidden fees – Scams lure with low prices then reveal added fees later during checkout.
Evaluate payment methods – Unsecure options like wire transfers, gift cards, and cryptocurrency are red flags. Credit cards offer more protection.
Assess product photos – Scams steal photos from other sites or use computer-generated images. Reverse image search any that seem off.
Check social media – Research the site's social media presence. Scams typically have little verifiable activity and few followers.
Read online reviews – Search the site name plus "scam" or "review" to find customer complaints indicating issues. But beware of fake reviews.
Check domain registration – Scam sites often secretly register domains. Search WhoIs domain tools to research a site's registration transparency.
Consider the product – Extremely discounted luxury goods that are hard to source are red flags.
With vigilance, consumers can identify scam ecommerce sites and protect financial and personal data. Trust your instincts – if a deal seems too good to be true, it probably is. Stick to well-known retailers or sites with overwhelmingly positive reviews.
What to do if you have fallen victim to the Gullgaze.com scam?
If you have fallen victim to this scam, you should take immediate action to protect yourself and your money. Here are some steps that you can take:
Contact your bank immediately – Alert your bank to disputed charges and consider canceling your card to prevent further fraudulent purchases.
Keep records – Save receipts, emails, screenshots, and any details related to the transaction. This provides proof of the scam.
File a complaint – Report the fraud to the FTC and Internet Crime Complaint Center. Provide any relevant records.
Leave online reviews – Post details of the scam on consumer review sites to warn others. However, don't defame legitimate businesses.
Report social media accounts – If the scam involved social media, report the accounts to get them removed.
Reverse payments – If you paid with a credit card, request a chargeback. For wire transfers, contact the recipient bank to possibly reverse it.
Check credit reports – Request credit reports to check for any accounts opened fraudulently using your information. Consider placing a credit freeze if needed.
Reset account passwords – Change passwords on any online accounts that used the same login credentials entered on the scam site.
Check your device for viruses – Run a Malwarebytes Anti-Malware Free scan to check for any malware that may have infected your device through the site.
Learn from the situation – Study how you were deceived so you can avoid other scams in the future.
Being vigilant against shopping scams and acting quickly when scammed can help limit financial and identity theft impact. Report it to help authorities investigate and shutdown scam sites that are still active.
Gullgaze.com – The Bottom Line
The multitude of red flags clearly demonstrates that Gullgaze.com is an untrustworthy scam site that consumers should steer clear of.
Gullgaze.com exhibits all the signs of being an unreliable e-commerce platform:
Anonymous company and team
Lack or fake contact details
Copied product listings and legal pages
No social media presence
Unrealistic discounts
Do not waste time or money shopping at Gullgaze.com. You will likely end up with compromised personal data, fraudulent charges, or no products at all. Only shop at reputable online retailers to avoid scams.
Gullgaze.com – Frequently Asked Questions
What are the signs Gullgaze.com is a scam?
Red flags include no contact info, prices too good to be true, and copied product info.
Is it safe to shop at Gullgaze.com?
No. Gullgaze.com is an unsafe website exhibiting multiple scam characteristics. They likely sell counterfeit items or nothing at all.
What should I do if I placed an order on Gullgaze.com?
Contact your bank and credit card company to report fraudulent charges and have new cards issued. Monitor accounts closely for misuse of stolen financial data.
How do I report Gullgaze.com?
Fake online shopping sites like Gullgaze.com should be reported to the Federal Trade Commission via their reportfraud.ftc.gov website. When filing your complaint, select "Online Shopping" as the issue and provide as much detail as possible about the fraudulent Gullgaze.com site so authorities can fully investigate.
What are the odds of getting money back from Gullgaze.com?
If you made a purchase from Gullgaze.com using a credit card, you have a high chance of getting your money back through a bank chargeback. Once your bank verifies the purchase came from a fraudulent site, the chargeback will likely be approved and the funds returned to you.
Can scammers from Gullgaze.com steal your identity?
If you provided any login or personal information to Gullgaze.com, identity theft is a risk. However, if you changed passwords, enabled two-factor authentication, and placed fraud alerts, your accounts should remain secure. Scammers won't be able to access your accounts or apply for loans in your name without passing verification.
Is it possible to get infected with malware from the scam?
Yes, Gullgaze.com poses a high malware risk since you may have entered sensitive information on the site. You could start receiving phishing emails with infected attachments. Use antivirus software like Malwarebytes to detect and remove any malware.
What are the signs of an online retail scam?
Red flags include big discounts, new domains, private registrations, stock photos, lack of reviews, missing policies, grammatical errors, and requests for unnecessary personal data.
The Bottom Line
In conclusion, Gullgaze.com is undoubtedly a scam shopping website that should be avoided at all costs. This fraudulent site follows a common scam formula: entice customers with unrealistic deals, collect payment and personal information, and then never fulfill orders. The website has all the red flags of an online shopping scam, including no legitimate contact information, stolen product images, and copied legal pages. If you come across Gullgaze.com or other deals that seem too good to be true, trust your instincts. Protect yourself, your money, and your information by steering clear of this deceptive platform masquerading as a shop. Stick to well-known e-commerce sites and be wary of rock-bottom prices to avoid being the victim of a scam.
If you have shopped on Gullgaze.com, we want to hear about your experience! Leave a comment below describing whether you received your ordered items as advertised or experienced any fraud from this website. Your feedback will help warn others about the potential risks this company poses.