Mac Cleanup Pro is a potentially unwanted program that uses intentional false positives to convince you to purchase the premium version of this program.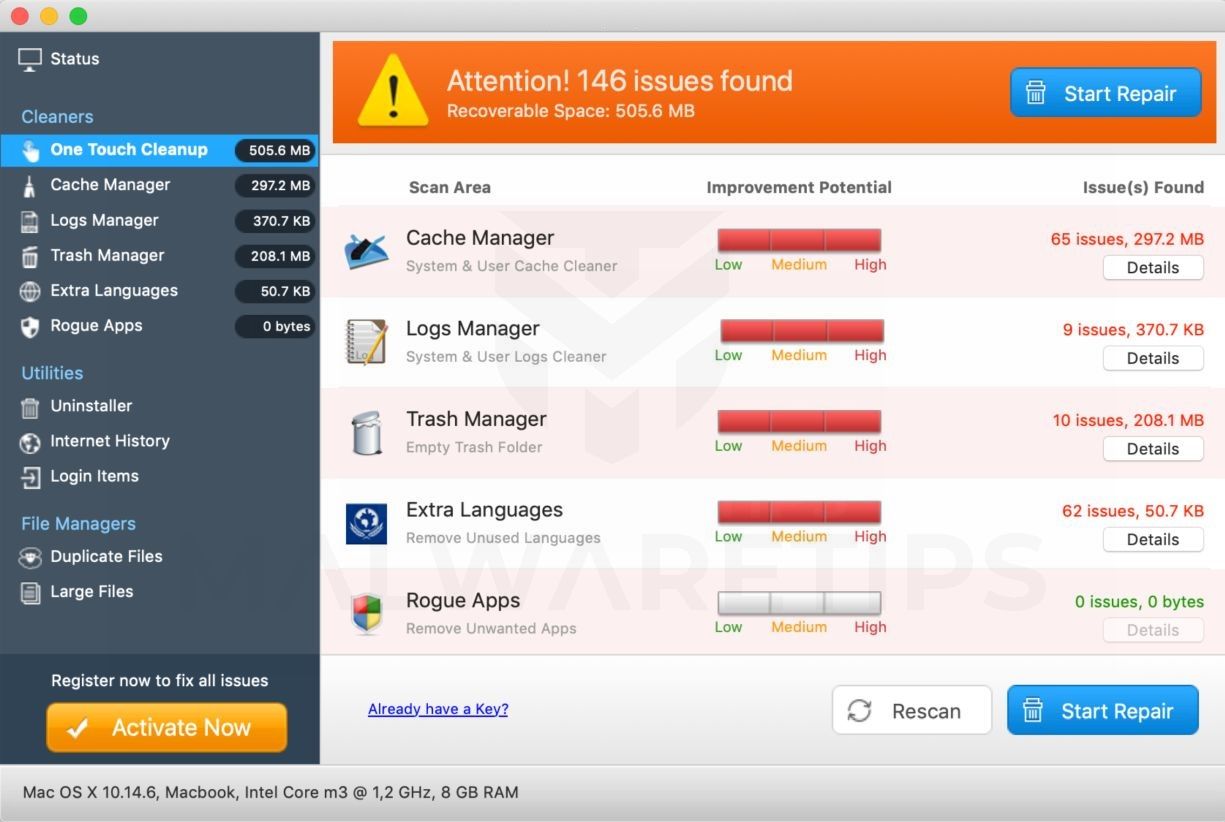 What is Mac Cleanup Pro
Mac Cleanup Pro is a potentially unwanted program that describes itself as a system optimization program that can help your computer run better. When scanning your computer, Mac Cleanup Pro will search for cached files, invalid startup entries, and temporary files. However, if you try to fix these issues, Mac Cleanup Pro will state that you need to buy the full version before being able to do so.
How did Mac Cleanup Pro get on my computer?
Mac Cleanup Pro is installed by the users, whether that is knowingly or not. Often, this type of program is offered through advertisements or bundled with other software, leaving the user puzzled where this software came from.
Unfortunately, some free downloads do not adequately disclose that other software will also be installed and you may find that you have installed Mac Cleanup Pro without your knowledge.
You should always pay attention when installing software because often, a software installer includes optional installs. Be very careful what you agree to install.
Always opt for the custom installation and deselect anything that is not familiar, especially optional software that you never wanted to download and install in the first place. It goes without saying that you should not install software that you don't trust.
To remove the Mac Cleanup Pro adware and check your computer for other malicious programs, please use the free malware removal guide below.
How to remove Mac Cleanup Pro (Removal Guide)
This malware removal guide may appear overwhelming due to the number of steps and numerous programs that are being used. We have only written it this way to provide clear, detailed, and easy to understand instructions that anyone can use to remove malware for free.
Please perform all the steps in the correct order. If you have any questions or doubts at any point, stop and ask for our assistance.
To remove Mac Cleanup Pro adware, follow these steps:
---
STEP 1: Remove malicious Profiles from your Mac
Profiles are used by IT admins in businesses to control the behavior of their Macs. These profiles can configure a Mac to do many different things, some of which are not otherwise possible.
When it comes to home users, adware and browser hijacker are using the configuration profile to prevent users from removing malicious programs from the computer. This also prevents the user from changing that behavior in the browser's settings.
In this first step, we will check your computer to see if any configuration profiles are installed. To do this, follow the below steps:
Open "System Preferences"

From the Apple menu, select System Preferences.

Search for "Profiles"

When the System Preferences window opens, search for the Profiles icon.


If there isn't a Profiles icon, you don't have any profiles installed, which is normal and you can continue with the next steps.

Remove the malicious profiles

If there's a Profile icon, click on it and select any suspicious profile that you want to remove, and then press the – (minus) button. Click Remove to remove the profile.

STEP 2: Remove Mac Cleanup Pro from Mac
In this next step, we will try to identify and remove any malicious apps and files that might be installed on your computer.
Quit "Mac Cleanup Pro"

On the Apple menu bar, in the top-right corner, if you see the Mac Cleanup Pro icon, click on it and then select Quit.

Open "Finder"

Click the Finder application on your dock.


Click on "Applications"

In the Finder left pane, click on "Applications".


Find and remove the malicious app.

The "Applications" screen will be displayed with a list of all the app installed on your device. Scroll through the list until you find the Mac Cleanup Pro app, right-click it, and then click "Move to Trash".

Click "Empty Trash"

On the dock, right-click on the trash icon and select "Empty Trash". Doing so deletes the Trash's contents, including the program that you just sent to the Trash.


Check and remove for malicious files

Click the desktop to make sure you're in the Finder, choose "Go" then click on "Go to Folder".

Look out for any suspicious files that could be behind all the drama – anything you don't remember downloading or that doesn't sound like a genuine program. Here are some known malicious files: Mac Cleanup Pro, "com.Mac Cleanup Pro.plist", "com.adobe.fpsaud.plist" "installmac.AppRemoval.plist", "myppes.download.plist", "mykotlerino.ltvbit.plist", or "com.myppes.net-preferences.plist". When you find a malicious file move it to the Trash.

/Library/LaunchAgents
~/Library/LaunchAgents
/Library/Application Support
/Library/LaunchDaemons
---
STEP 3: Use Malwarebytes Free to remove Mac Cleanup Pro
Malwarebytes Free is one of the most popular and most used anti-malware software for Windows, and for good reasons. It is able to destroy many types of malware that other software tends to miss, without costing you absolutely nothing. When it comes to cleaning up an infected device, Malwarebytes has always been free and we recommend it as an essential tool in the fight against malware.
Download Malwarebytes Free.

You can download Malwarebytes for Mac by clicking the link below.

MALWAREBYTES FOR MAC DOWNLOAD LINK (The above link will open a new page from where you can download Malwarebytes for Mac)

Double-click on the Malwarebytes setup file.

When Malwarebytes has finished downloading, double-click on the setup file to install Malwarebytes on your computer. In most cases, downloaded files are saved to the Downloads folder.

Follow the on-screen prompts to install Malwarebytes.

When the Malwarebytes installation begins, you will see the Malwarebytes for Mac Installer which will guide you through the installation process. Click "Continue", then keep following the prompts in order to continue with the installation process.

When your Malwarebytes installation completes, the program opens to the Welcome to Malwarebytes screen. Click the "Get started" button.

Select "Personal Computer" or "Work Computer".

The Malwarebytes Welcome screen will first ask you on what type of computer are you installing this program, click either Personal Computer or Work Computer.


Select "Use Malwarebytes Free".

You'll be then prompted to select between the Malwarebytes Free and the Premium version. The Malwarebytes Premium edition includes preventative tools like real-time scanning and ransomware protection, however, we will use the Free version to clean up the computer.
Click on "Use Malwarebytes Free".


Click on "Scan".

To scan your computer with Malwarebytes, click on the "Scan" button. Malwarebytes will automatically update the antivirus database and start scanning your computer for malware.


Wait for the Malwarebytes scan to complete.

Malwarebytes will scan your computer for adware and other malicious programs. This process can take a few minutes, so we suggest you do something else and periodically check on the status of the scan to see when it is finished.


Click on "Quarantine".

When the scan has completed, you will be presented with a screen showing the malware infections that Malwarebytes has detected. To remove the malicious programs that Malwarebytes has found, click on the "Quarantine" button.


Restart computer.

Malwarebytes will now remove all the malicious files that it has found. To complete the malware removal process, Malwarebytes may ask you to restart your computer.

---
Your computer should now be free of the Mac Cleanup Pro program. If your current antivirus allowed a malicious program on your computer, you may want to consider purchasing Malwarebytes Premium to protect against these types of threats in the future.
If you are still experiencing problems while trying to a malicious program from your computer, please ask for help in our Mac Malware Removal Help & Support forum.