Pros:
Top-notch Antivirus
Tasks run in idle time
Very Userfriendly.
"Insight" technologies provide unmatched protection.
Very good level of protection against phishing.
Small impact on performance.
Good parental controls
Highly rated in independent tests
Offers a high degree of prevention
Early boot
Cons:
Official Price Tag – $69.99
Bottom Line:
Symantec, Norton's manufacturer,has managed to provide one of the best (if not the best) suite on the market.
Symantec has revolutionized the security market with its "Insight" technologies.This feature combined with the very good behavior blocker (SONAR) and the top notch antivirus will manage to provide a very large degree of prevention for any PC user.
Known for being a resource hog in the past , Symantec turned that problem upside-down, now performing among the best internet security software.NIS 2011 will also alert you when any process is hogging the CPU or gobbling up your RAM.
Since it dosen't have an integrated HIPS Symantec it's very userfriendly so I can bet that even your Grandmother can use NIS without any real problems.
I've tested Norton Internet Security 2011 many times and I must that it's a perfect suite , the only problem that I can see is the price tag ( $69.99 ) nevertheless if you start searching on Amazon or Ebay , I'm sure that you'll be able to find a license for NIS 2011 with a very good price.
Long story short : Norton Internet Security 2011 is effective, efficient, and easy to use.
Rating: 5 Stars (Excellent)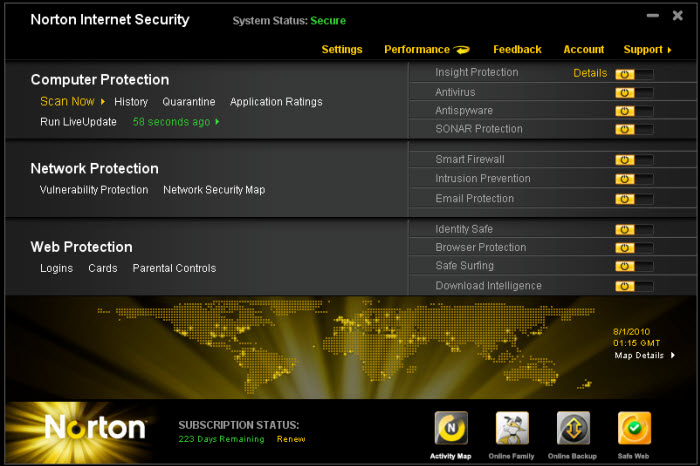 Norton is packed with a lot of feaures , you can read about them – here.
And if I had to have any complaints is on Symantec end because to download a trail for NIS 2011 from Symantec homepage you need a credit card to complete the trail requirements.
And then If you don't like NIS in the 30 days trail period you can cancel your subscription and you won't be charged.
If you do like NIS 2011 , Symantec will just automatically consider that you want to buy it with a 1 year license and will take the money from your credit card.Symantec is the only company that asks for a credit card before being able to download a simple trail.Although it can been seen as fair by some people,I can tell you that from the marketing point of view this will definitely make some of the potential customers run away from the product and not want to test NIS.
Fortunatly enough their are always some promos, like this one ,that give a free trail for NIS 2011.
Download NIS 2011 with 90 days trail period from here
For further discussions on this review you can view this thread in our  forums