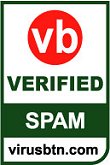 Virus Bulletin announced the results of a new anti-spam comparative test. The full report can be read in the Virus Bulletin (VB subscribers only) magazine ,January 2011 edition
Email Spam is the electronic version of junk mail. It involves sending unwanted messages, often unsolicited advertising, to a large number of recipients. Spam is a serious security concern as it can be used to deliver Trojan horses, viruses, worms, spyware, and targeted phishing attacks.
Virus Bulletin has tested 20 anti-spam programs including : Anubis Mail Protection Service, BitDefender Security for Mail Servers 3.0.2, Kaspersky Anti-Spam 3.0, McAfee Email and Web Security Appliance, Symantec Brightmail Gateway 9.0, Messaging Architects M+Guardian si Webroot Email Security Services
The test uses two live spam streams, which are sent to all the filters participating in the test in random order, thus exposing each to exactly the same email stream, in real time; in addition hundreds of legitimate emails are sent through the products every day, also in real time. The test measures both the false positive rate and the spam catch rate of the products, and VBSpam certifications are awarded to products that exceed a predefined benchmark based on both measurements.
All products tested have received the "VbSpam" Award , except for GFI VIPRE and Pro-Mail, and as you can see in the chart below, the most effective detection were:  OnlyMyEmail, Libra Esva, SpamTitan, McAfee Email Gateway and Symantec Brightmail.