Viral ads promoting HeatFlow Heater portable heaters are spreading across social media and inboxes using dubious claims, fake reviews and fake endorsements to lure in consumers. But disappointed buyers report these heavily marketed HeatFlow Heater units fail to live up to the hype. This article will uncover how this prevalent heating scam works and provide tips to avoid getting ripped off.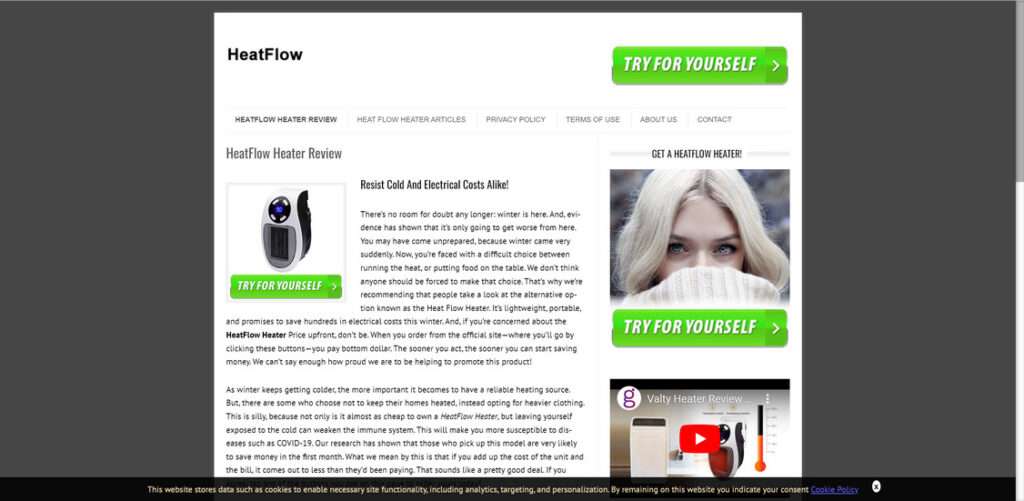 Overview of the Misleading HeatFlow Heater Scam
The HeatFlow Heater scam is the latest incarnation of a prevalent false advertising scheme promoting cheap $3 portable heaters imported from China as revolutionary heating innovations. The scammers behind this bait-and-switch are continuously rebranding the same ineffective products, previously marketed as EcoHeat, Hot Amigo, Life Heater, Warmool Heater, Cosmo Heater, and now HeatFlow Heater.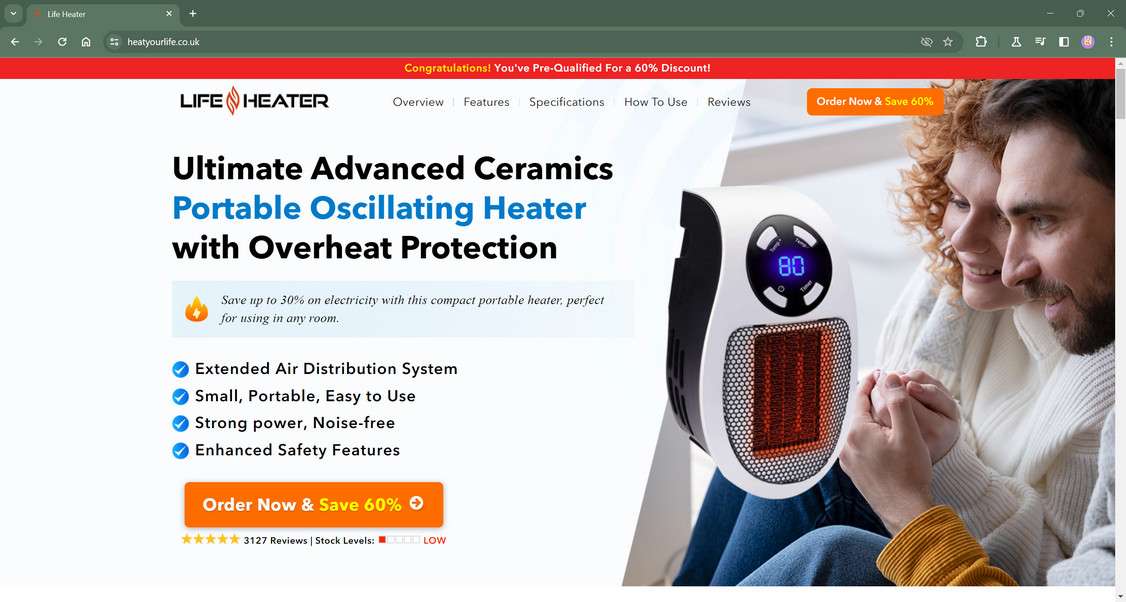 These anonymous scammers rely on viral Facebook, Instagram, YouTube ads and spam emails making unbelievable claims about HeatFlow Heater's performance. Some examples of the exaggerated claims are instantly heating rooms from top to bottom in 2 minutes, slashing energy bills by 30%, advanced safety protections, fully adjustable heating, and thousands of positive reviews.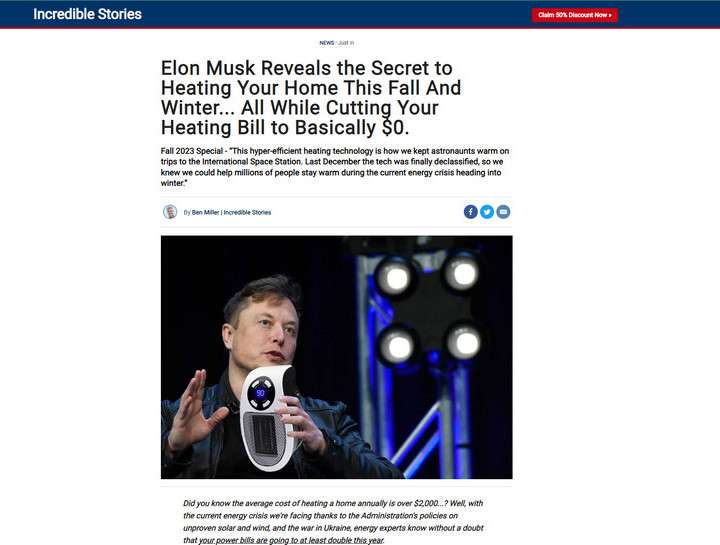 However, the actual $3 units shipped out after purchase are low-quality generic heaters bought in bulk from Alibaba and other Chinese exporters. These mass-produced heaters fail catastrophically to deliver the promised rapid heating, energy savings or performance capabilities.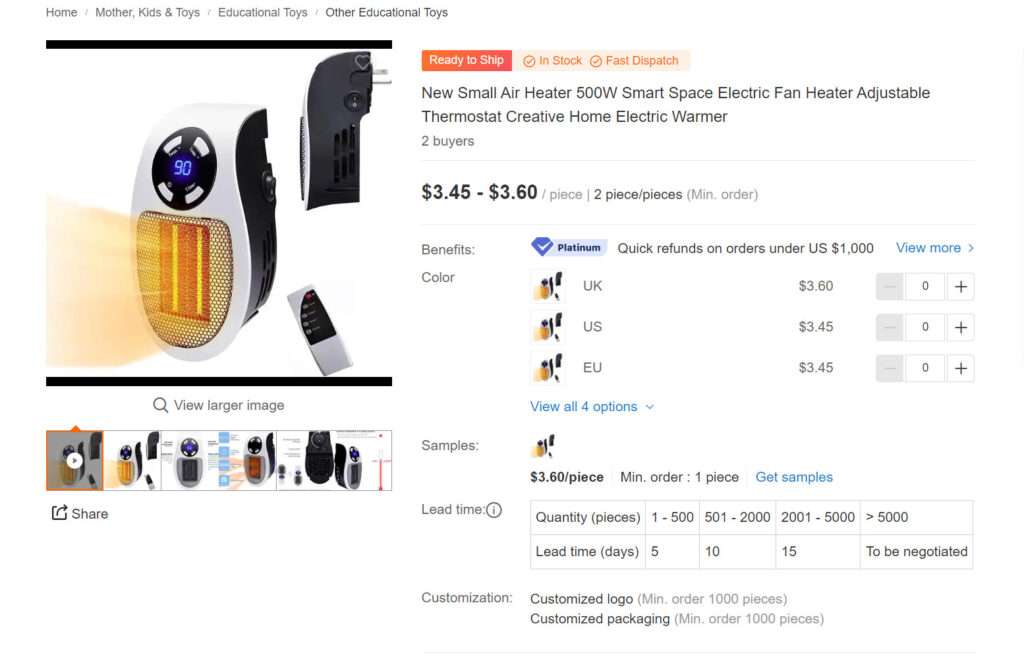 The bait-and-switch scam banks on using fake reviews, misleading terminology and a sense of urgency to generate impulse purchases before skeptical buyers can thoroughly research the shady pop-up companies behind the ads.
After payments are extracted, refunds are notoriously difficult or impossible to obtain. The anonymous scammers work aggressively to bury negative reviews and feedback exposing the true underperformance of these units.
They routinely ignore refund requests and complaints, providing absolutely no way to contact them after purchase. These shady tactics are designed to limit the truth about the scam coming to light, while keeping the fraudulent marketing campaign going. Legitimate businesses that stand behind their products do not operate like this.
In summary, the HeatFlow Heater scam relies on greatly exaggerating the capabilities of cheap $3 heaters sourced from China in order to massively overcharge consumers. The misleading marketing bears no resemblance to the actual disappointing products shipped out.
How the Misleading HeatFlow Heater Scam Works
The HeatFlow Heater scam follows a calculated deception playbook to overcharge consumers and suppress negative reviews. Here's an in-depth look at the process.
Phase 1: Crafting Misleading Social Media Ads
The scam starts with carefully designed social media ads portraying HeatFlow Heater as a remarkable room heating innovation. The scammers routinely run ads on platforms like Facebook, Instagram, YouTube, TikTok and more.
These compelling ads tout things like "rapid 2 minute heating" and use fake reviews, certification badges and urgency tactics to generate clicks to their sales funnels quickly.
Some examples of the dubious claims and techniques used in the ads include:
"Heats up any room from top to bottom in just 2 minutes!" But real reviews reveal slow, modest warming.
"Slash energy bills by 30%!" This vastly overstates any savings from running these units.
Fake 5-star review snippets like "My new favorite purchase!" when its heating ability is mediocre.
"50% off limited time deal!" and other countdown timers or scarcity claims urging immediate purchase.
Showing people happily bundled up and warm near the heater – when it can't heat nearly that much area effectively.
The goal is to present an extremely exaggerated depiction of HeatFlow Heater's abilities in order to generate a flood of clicks driven by hype.
Phase 2: Deceptive Sales Pages Confuse and Upsell
After clicking one of the misleading social media ads, consumers are funneled to shady sales pages with more dubious claims and high pressure sales tactics.
These pages utilize additional tricks like:
Fake limited-time discounts like "50% off today only!" to panic buyers.
Fake scarcity claims of "only 29 left!" to also urge hurried purchases.
Aggressive upselling with options to buy 2, 3 or 5 HeatFlow Heater units at once.
Burying negative reviews and limiting Q&A sections to suppress research.
Repeating the same exaggerated claims about fast heating, energy savings, safety, etc.
No company information, address or contact details provided anywhere on the site.
The combative sales pages aim to limit research into the true source of the units while pushing impulse bundle purchases of multiple overpriced heaters.
Phase 3: Refusing Returns and Ignoring Complaints
Unfortunately, many consumers realize post-purchase they have been scammed. When attempting to return the underpowered HeatFlow Heater units, common responses include:
Ignoring emails or sending back automated responses only.
Customer service numbers that hang up, disconnect or forward to unrelated companies.
Refusing returns and claiming "you missed the 30 day refund window."
Rejecting credit card chargebacks by using fake shipping information and details.
Forcing unwanted "exchanges" for the same dubious heaters, rather than refunds.
No way to contact the company or people behind the scam.
This pattern of refusing returns and obscuring negative feedback is a key indicator of a fly-by-night scam operation with no real customer support after payments are collected. Legitimate businesses do not operate like this.
What To Do If You Purchased a HeatFlow Heater Unit
If you unfortunately already ordered one of these heavily marketed but underperforming HeatFlow Heater units, follow these steps:
1. Dispute the charges immediately: Call your credit card company and request a chargeback refund, reporting the charges as fraudulent. Provide details on how the product was misrepresented in the ads.
2. Gather evidence: Take photos and videos detailing how the real HeatFlow Heater fails to heat your space quickly or efficiently compared to the capabilities touted in the ads.
3. File complaints: Submit reports about the scam to the FTC, state attorney general, RipOff Report, and other consumer protection sites.
4. Leave reviews: Warn others by leaving negative reviews about the misleading ads on Trustpilot and other review sites. Social media posts also help spread awareness.
5. Escalate with your bank: If chargebacks fail, request arbitration from your credit card issuer to recover the funds. Reiterating evidence seems to help get refunds.
With diligence, persistence and good documentation, many HeatFlow Heater customers report successful chargeback refunds after exposing the bait-and-switch scam. Prevention is always the best approach though.
Avoiding HeatFlow Heater Scams: What To Know
Here are some top tips for spotting and avoiding HeatFlow Heater heater scams lurking online:
Outlandish claims – Any heater promising to instantly heat giant rooms is almost certainly exaggerating massively. Apply heavy skepticism to such claims.
Fake reviews – Watch for "reviews" that seem overly perfect with no negatives at all. Scammers routinely fabricate positive reviews.
High pressure tactics – Limited time discounts and scarcity claims are red flags something is being rushed for a reason.
Research sellers – Thoroughly vet any company advertising heavily online before buying. Check for warning signs like no address.
Buy local – When possible, inspect and purchase heaters at local stores rather than from online ads.
Avoid "miracle" products – Any gadget seeming too good to be true online likely is. Stick to proven brands and impartial reviews.
Staying vigilant and doing your own research is crucial to avoid getting misled by overhyped products like HeatFlow Heater pushed through deceptive marketing. Only buy directly from reputable retailers you can fully verify and trust.
Frequently Asked Questions About the HeatFlow Heater Scam
Misleading HeatFlow Heater ads are proliferating online using dubious claims, fake reviews and fake endorsements. This FAQ provides answers to frequently asked questions about this pervasive scam.
What exactly is the HeatFlow Heater scam?
The HeatFlow Heater scam uses viral social media ads and spam emails with exaggerated claims to promote cheap $3 heaters as high-tech heating innovations. Customers find the actual units drastically underperform compared to the misleading marketing.
How are HeatFlow Heater heaters advertised?
Scammers run Facebook ads, YouTube videos, TikTok posts, influencer promotions and spam emails depicting HeatFlow Heater as a revolutionary heater with unbelievable capabilities. But these ads are filled with deception.
What false claims do the HeatFlow Heater ads make?
Some dubious claims are instant room heating, slashing energy bills 30%, advanced safety features, fully adjustable temperature, silent operation, celebrity endorsements, and thousands of perfect 5-star reviews.
Where do the fake HeatFlow Heater ads lead if you click on them?
The fraudulent ads send victims to shady websites packed with more misleading claims, fake discounts, countdown timers and aggressive upselling urging immediate purchase.
What happens after a victim purchases a HeatFlow Heater?
Many report the sellers instantly deny refunds after taking payment and then disappear without providing any way to contact them about the underperforming units shipped.
What are warning signs of a HeatFlow Heater scam?
Red flags include exaggerated claims, only accepting credit cards, no company address, refusing refunds, deleting negative comments, and having no way to contact the seller after purchase.
What should you do if you purchased a HeatFlow Heater?
If you realize it's a scam, immediately dispute the charges with your credit card company as fraudulent and request a chargeback refund. File complaints with consumer agencies.
How can you avoid HeatFlow Heater scams?
Apply heavy skepticism to "miracle" products promoted heavily online. Only buy directly from reputable retailers that you can thoroughly verify. Research sellers and watch for claims that seem too good to be true.
Where can I report a fraudulent HeatFlow Heater ad or website?
You can report HeatFlow Heater scams to the FTC, state attorneys general, social networks hosting the ads, ad networks, and consumer protection sites to get fraudulent ads removed and warn others.
The Bottom Line on the HeatFlow Heater Scam
In summary, here are the key facts to remember about the HeatFlow Heater heater scam:
Social media ads use wild claims, fake reviews and urgency tactics to push sales
Deceptive sales pages use countdown timers and limited stock claims to urge rushed purchases
The actual heaters severely underdeliver versus the capabilities touted
Scammers routinely ignore refund requests and complaints about the units
Vet sellers thoroughly and only buy from trusted retailers to avoid scams
Being persistent with banks can result in refunds, even post-purchase
Hopefully this guide provides ample details on how the HeatFlow Heater scam works plus guidance if you unfortunately purchase one of these overhyped heaters. Stay vigilant for "miracle" products pushed via social media designed to extract payments rather than satisfy customers.