Landing page: https://www.amazon.co.uk/gp/BIT/AmazonBrowserBar/
The Amazon 1Button App is a browser web app that lets you take Amazon with you wherever you go. Compare prices, get notified about special offers, add items to your Wish List from any website...and a whole lot more.

Available in US, CA, UK, FR, ES, DE, IT, JP and CN.
For Chrome:
Get special offers and features right at your fingertips with The Amazon 1Button App for Chrome, including:
Price Compare: Compare prices when you shop at thousands of retail sites online
Today's Deals: Get the Deal of the Day and Lightning Deals ten minutes before they're available on Amazon.com
Top Ten: View best sellers, most wished for products, and more
Add to Wish List: Build your Wish List quickly and efficiently
Amazon Smart Search: Quickly search for products across Amazon and the Web
Cloud Player: Play your digital music anywhere
Cloud Drive: Securely view, upload, and share your files from the cloud
Cloud Reader: Read Kindle books in your Web browser
Chrome Permissions: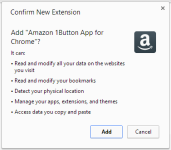 For English Market:
Chrome Web Store -
https://chrome.google.com/webstore/detail/amazon-1button-app-for-ch/pbjikboenpfhbbejgkoklgkhjpfogcam
Firefox Add-ons -
https://addons.mozilla.org/en-US/firefox/addon/amazon-browser-bar/
Internet Explorer -
https://d1h5tuq46hrbzn.cloudfront.net/abb/Amazon1ButtonApp.msi
(Direct Download)
For Chinese Market:
360 Secure Browser -
https://ext.se.360.cn/webstore/detail/pbjikboenpfhbbejgkoklgkhjpfogcam
360 Quick Browser -
https://ext.chrome.360.cn/webstore/detail/pbjikboenpfhbbejgkoklgkhjpfogcam