Level 85
Thread author
Verified
Honorary Member
Top Poster
Content Creator
Malware Hunter
Well-known
CPUs based on AMD's new Zen 4 architecture won't arrive until this fall, but the company is already dropping hints about what comes next. As reported by AnandTech, AMD is planning a new Zen 5 architecture, which is scheduled to come to desktop and laptop PCs in 2024. The company is also planning to bring the Zen 4 architecture to laptops in 2023, while the desktop CPUs remain on track to launch in 2022.

AMD also provided more information about Zen 4's performance. The company

said

at Computex that the Ryzen 7000-series chips would sport roughly 15 percent faster single-threaded performance than Ryzen 5000. The company said Friday that Zen 4 was between 8 and 10 percent faster than Zen 3 at the same clock speeds, accounting for most of the speed improvement, while the remaining 5 to 7 percent will come from higher clock speeds for Ryzen 7000 CPUs. Zen 4 can also deliver roughly 25 percent higher performance-per-watt than Zen 3.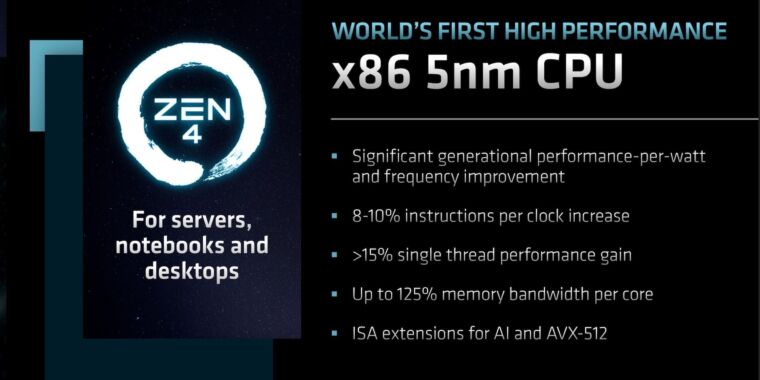 Zen 4 laptop CPUs will include next-gen GPUs based on the RDNA3 architecture.

arstechnica.com