Moderator
Thread author
Verified
Staff Member
Malware Hunter
Well-known
Google's

other

big navigation app, Waze, is coming to Android Automotive. Today the company announced the move on the

Waze blog

, saying, "The new dedicated Waze app for cars brings the best of Waze real-time navigation, routing and alerts feature right in the car's display. When you drive, you can experience safer and more convenient journeys while eliminating the hassle of using a smartphone."

Google has two different car products with really confusing branding. The first is Android Auto. This is Google's version of CarPlay—an app that runs on your phone but projects a special car interface to your vehicle's dashboard display, showing off Google Maps and compatible Android Auto apps on your phone. Waze has been on Android Auto since 2017. Today's announcement is for Android

Automotive,

a different product from Android Auto. Automotive, the fully spelled-out version, is

a full operating system

instead of an app.

Cars have infotainment computers in them, and Android Automotive OS (AAOS) has the car run Android. Even if there's an iPhone in your pocket, your car runs Android on the car's internal computer instead of something like Linux or QNX. AAOS has a car version of the Play Store, where you can download apps directly to your car, and it's this platform that Waze is arriving on. Android Automotive is pretty rare out there in the world, but you'll see it on new Volvo/Polestar, Ford, and GM cars, mostly. Sometimes Google or car manufacturers will call AAOS "cars with Google built-in."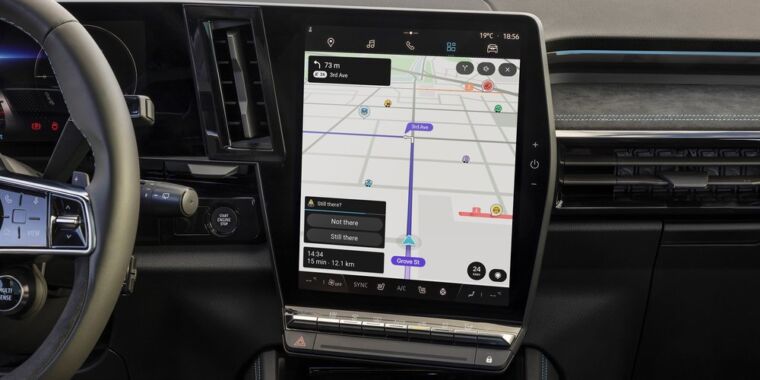 For now it's only in Europe, with a worldwide rollout coming in 2023.

arstechnica.com