Level 11
Thread author
Verified
Top Poster
Well-known
AOMEI Partition Assistant Pro
allows you to create, delete, resize, format hard disk partitions, merge, split and move (or copy) them, including to another hard disk or SSD.
The application provides users with a step-by-step interface for performing basic steps related to managing hard disk partitions. With step-by-step actions, you can quickly get the job done without losing data.
Supports all storage devices such as: flash drives, HDDs, SSDs, RAID arrays with both MBR and GPT disk partition styles.
Main features of AOMEI Partition Assistant Pro​
Migrating OS to SSD / HDD: For many SSD users, this simple technology can help migrate their OS to SSD and keep the original system.
Partition Recovery: Recover lost or deleted partitions in a few steps.
Partition alignment: speed up the performance of disks when reading and writing data, especially SSD disks.
Bootable CD Creation: Safely manage disk partitions in WinPE mode and boot from CD / DVD, USB flash memory.
Overwrite MBR: Overwrite from the master boot disk to a corrupted MBR hard disk for easy recovery.
Convert Between GPT and MBR: Convert from GPT disk to MBR without data loss and vice versa.
Linux partitions management: create, delete, format, copy, destroy, restore Ext2 / Ext3 partitions.
Changing the type of partitions (ID) and changing the serial number.
Create dynamic disk partitions: Install mirrored volumes on Windows for error resilience.
Removing and formatting partitions with FAT or NTFS file systems.
Resize and relocate dynamic disks without losing data.
Shrink dynamic partitions to maximize disk space.
Expanding dynamic system / download size for optimal computer performance.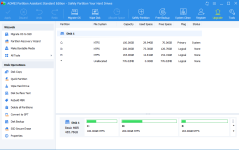 Last edited by a moderator: