BWMeter is a powerful bandwidth meter, monitor, traffic controller and firewall, which measures, displays and controls all traffic to/from your computer or on your network. Unlike other products, it can analyze the data packets (where they come from, where they go, which port and protocol they use). This makes it possible to distinguish between local and internet traffic for example. BWMeter can also be used for traffic control by setting a speed limit for all kinds of connections or restricting access of applications to certain internet sites. It creates statistics for all computers in your network, measuring and displaying all LAN traffic as well as download / upload from the internet. You can even define filters which show your transfer with certain internet addresses
UPDATE Version 8.4.9(17.09.20)
New: ping name in each line of ping log (for filtering)
Fix: notification windows not being on top of other windows
I am LOVING this software! The installer download is less than 2 mb and on my system it runs at about 17 mb of memory and 0.10 cpu resources.
It is very small and light!
It is sooo customizable. Alert or no alert, default sound file with alert or no sound or pick your own sound file! It reacts fast with alerts and pauses the programs and for the most part doesn't cause a break while it waits for your prompt as long as the program waits and doesn't have it's own timer. And the alert and traffic control is HIGHLY configurable as you can see by the pictures.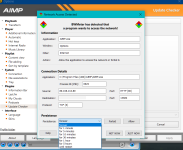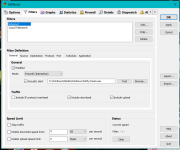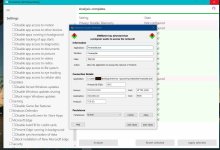 You can set it what to do on double click on tray icon (or single click!) and change from silent firewall to interactive: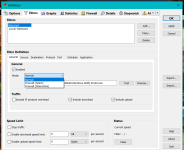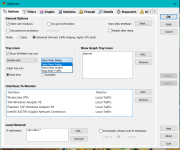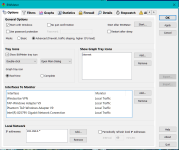 You can look at the internet/lan activity and info of specific program using the internet: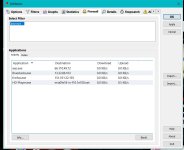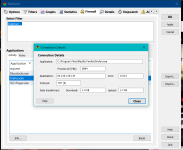 And internet rules and statistics tab to keep log of usage at a glance: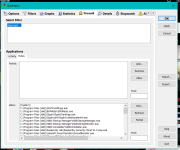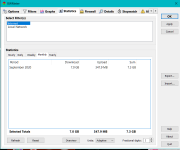 And it is all laid out to me very comfortably and logical with simple understanding. Oh yea with graphs at a glance on your
desktop if you wish (Like glasswire) and you can toggle them in the tray settings AND stop all traffic from the tray if needed!
You can place the graphs anywhere on the desktop AND make them stay visible OR pop up when a certain bandwidth is being used.
I don't use these graphs but I use the simple one in the tray that I can see at a glance if something is using the internet.
(That is also HIGHLY configurable and can be off or on and any color combo!)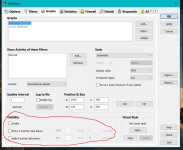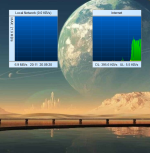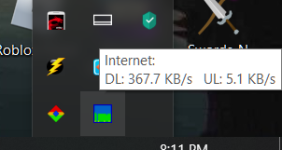 Ok whew. I am done. Um, this didn't turn out to be a "mini" review.
I don't get paid enough for this! (Oh right, I don't get paid at all!)
Hope this was informational and you enjoyed!
Last edited: