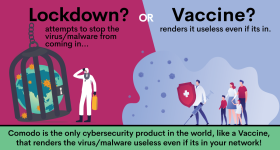 This is a new message from Melih, Comodo's CEO, on their forum.
I personally think this message is really astonishing.
That statement goes completely against the concept of containment that Comodo has always advertised...
We place good files in our digital container and use it on unknown environment and place bad files in our container and use it on good environment.
containment.comodo.com
Default Deny with Auto-sandboxing
The Jail House Method of Containment
So, containment is like placing a virus into a jail house (so, like the lockdown in the picture) so that it can't harm the PC, while traditional AVs are like killing an already spread virus (you can make a vaccine only after you discover something unknown is a virus)... but now they advertise Comodo like a vaccine...
What do you think about this?