Level 34
Thread author
Verified
Top Poster
Content Creator
Well-known
Last update: November 2021
If you're here you may probably have been delighted already by the majestic features of ESET
Maybe the signatures convinced you? Great static detection for sure. In this thread I will guide you a bit on how to configure your ESET product for maximum security without compromising performance.
CONFIGURATION
The following configuration setup is intended for maximum protection and interactive user approval. This means, you will be consulted about almost everything, in order for you to have full knowledge and control over your system. If you want an install and forget setup, this is not your thread. And probably not your AV lol.
We will start from the premise you just installed ESET, let it update and restarted the machine. Through the installation process you may have found out you're asked if you want to enable two options: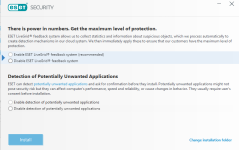 Just click YES on both.
If a section is skipped here on the thread it means you should leave it default. Only change what it's specifically told here. Compare the pictures with your configuration and enable/disable.
1. Right click ESET---Advanced setup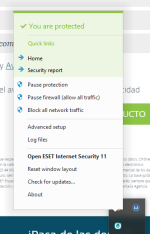 WAIT, ROBO!

I'm too lazy! Can't I just import your configuration file to my ESET product?
Well sir, yes you can. Download it from here:
This link includes all the modules configuration, and HIPS rules for:
Ransomware Protection rules
Registry Protection rules
Hosts file Protection rules
Protected Folders
For instructions on successfully settings up the
Protected Folders
rules, check this post#60
Q&A - Configure ESET Antivirus for Maximum Security (by RoboMan)
Last edited: