Level 15
Thread author
Verified
Top Poster
Well-known
The US Justice Department has sized the domains of 13 DDoS-for hire services as part of an ongoing initiative for combatting the Internet menace.

The providers of these illicit services platforms describe them as "booter" or "stressor" services that allow site admins to test the robustness and stability of their infrastructure. Almost, if not all, are patronized by people out to exact revenge on sites they don't like or to further extortion, bribes, or other forms of graft.

The international law enforcement initiative is known as Operation PowerOFF. In December, federal authorities seized another 48 domains. Ten of them returned with new domains, many that closely resembled their previous names.

"Ten of the 13 domains seized today are reincarnations of services that were seized during a

prior sweep in December

, which targeted 48 top booter services," the Justice Department

said

. "For example, one of the domains seized this week—cyberstress.org—appears to be the same service operated under the domain cyberstress.us, which was seized in December. While many of the previously disrupted booter services have not returned, today's action reflects law enforcement's commitment to targeting those operators who have chosen to continue their criminal activities."

According to a

seizure warrant

filed in federal court, the FBI used live accounts available through the services to take down sites with high-capacity bandwidth that were under FBI control.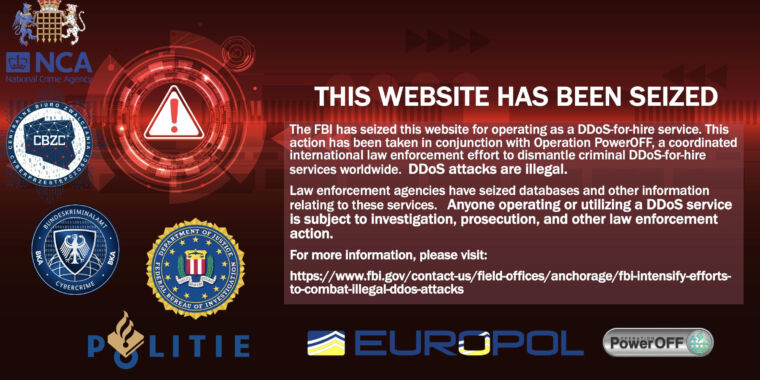 The DDoS whack-a-mole game between law enforcement and miscreants continues.

arstechnica.com