First, we check DNS leaks:
Check your VPN connection for DNS leak. This VPN test detects all the DNS leaks on your devices.
bash.ws
Then we test
DNSSEC
:
Connection test
(This website test other stuff too)
With that site, we make some different tests (take a while):
Test your browser for data leaks, such as IP address, advanced DNS test, WebRTC leak test, IP geolocation, http headers and device information. Designed for mobile and desktop.
tenta.com
And last but not least, we test the security:
GRC's DNS Nameserver spoofability testing facility
www.grc.com
That's it.
You can share then your result here.
Also it's important that your DNS:
- don't has any leaks
- support DNSSEC
and have as good as possible these results on grc.com: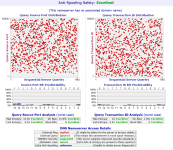 and on dns-oarc.net: