Moderator
Thread author
Verified
Staff Member
Malware Hunter
Well-known
If you take a photo of the moon on a Samsung device, it will return a detailed photo of

the moon

. Some people are mad about this. The issue is that Samsung's software fakes some details the camera can't really see, leading

a Reddit user

called ibreakphotos to accuse the company of "faking" moon photos. The user's post claims to be able to trick Samsung's moon detection, and it went viral enough that Samsung's press site

had to respond

.

Samsung's incredibly niche "Moon Mode" will do certain photo processing if you point your smartphone at the moon. In 2020, the Galaxy S20 Ultra launched with a "100x Space Zoom" (it was really 30x) with this moon feature as one of its marketing gimmicks. The mode is still heavily featured in Samsung's marketing, as you can see in

this Galaxy S23 ad

, which shows someone with a huge, tripod-mounted telescope being jealous of the supposedly incredible moon photos a pocketable Galaxy phone can take.

We've known how this feature works

for two years now

—Samsung's camera app contains AI functionality specifically for moon photos—though we did get a bit more detail in Samsung's latest post. The Reddit post claimed that this AI system can be tricked, with ibreakphotos saying that you can take a picture of the moon, blur and compress all the detail out of it in Photoshop, and then take a picture of the monitor, and the Samsung phone will add the detail back. The camera was allegedly caught making up details that didn't exist at all. Couple this with AI being a hot topic, and the upvotes for faked moon photos started rolling in.
The key here is that this technique only works on

the moon

, which looks the same for everybody. Samsung can be super aggressive about AI detail generation for the moon because it knows what the ideal end result should look like. It feels like Samsung is cheating because this is a hyper-specific use case that doesn't provide a scalable solution for other subjects.

You could never use an aggressive AI detail generator for someone's face because everyone's face looks different, and adding details would make that photo not look like the person anymore. The equivalent AI technology would be if Samsung trained an AI specifically on

your face

and then used that model to enhance photos it detected you were in.

Someday, a company may offer hyper-personalized at-home AI training based on your old photos, but we're not there yet.

If you don't like your improved moon photos, you can just turn the feature off—it's called "

Scene Optimizer

" in the camera settings. Just don't be surprised if your moon photos look worse.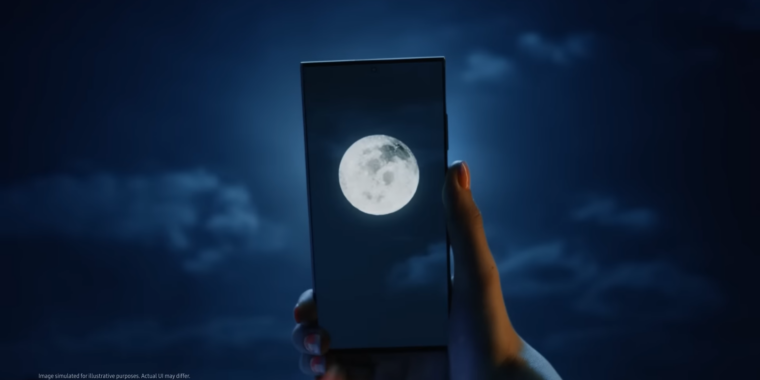 When you know how the end result should look, how much AI is too much?

arstechnica.com