Level 26
Thread author
Verified
Top Poster
Well-known
Hi all.
I keep these options enabled in KIS as shown in the screenshot below:

And I guess keeping those options above as enabled, would not have any conflict with keeping these options below in Adguard for Windows, enabled, is that true?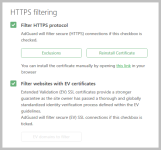 I talked with a friend about this, and his idea is below:
"I honestly don't know what happens when multiple pieces of software try deciphering HTTPS traffic. I guess one goes first, does its filtering, re-encrypts it using their own cert, and the other goes after. Pretty inefficient (two decipher->filter->cipher passes) but should work. If it doesn't, you'll see it fast enough.
BTW the problem is not the options in KIS, but rather than two software are filtering HTTPS at all. (i.e. the first checkbox in your second screenshot, and oen not shown in KIS).
Anyway, either it works, or you would see HTTPS alerts in your browser."
I also thought to know forum members idea on this as well. Thank you very much.