Internet filter SafeDNS - a great tool for parents who want to control their children's access to the Internet. The service allows you to protect individual connected to the network devices (PCs, laptops, tablets, smartphones, etc.) and all the home network as a whole (by SafeDNS settings on the router or DSL modem) from various types of online threats.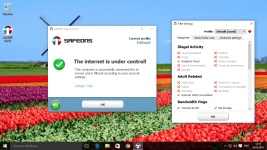 SafeDNS filtering service can be deployed on any Internet-connected device, regardless of operating system and IP-addresses. The system supports all popular operating systems (Windows, Linux, Mac, iOS and All Android), dynamic DNS, and various kinds of IP-addresses (static, dynamic, transformed NAT service).
No matter which device (old or new) you use to surf the Internet as a unique SafeDNS filtering technology allows access only to authorized domains. You can fine-tune what resources or resource groups should be allowed to include more than 50 proposed thematic categories containing over 10 million web addresses. Database SafeDNS domains is growing. Some sites are very easy to add to the whitelist or block.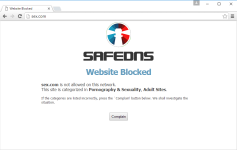 In order to take advantage of cloud-based service SafeDNS, no need to download additional software. You need to register on the website SafeDNS, change the DNS settings on your network and configure the filtering options in the personal control panel, available around the clock. In the console, you can easily modify any SafeDNS service settings from any physical location - you only need an Internet connection.
At the moment, the online control panel except the English language also supports German, Spanish, French, Italian, Arabic, Brazilian Portuguese and Turkish language localization.
Various filtering rules can be created for individual users or groups of users (for example, for parents, young children and adolescents). A set of useful features to help customize the filtering settings and edit them at any time convenient for you.
If you do not want to manually configure SafeDNS on Windows computers, you can download SafeDNS Agent program. After you install an Internet filter will automatically run on the computer. Agent will be useful for users with dynamic IP-addresses and addresses converted NAT. When using the User program sees opportunities outside the protected network to protect computers and computer groups.
Free subscription SafeDNS
To receive a free annual subscription to the tariff plan of Safe @ Home, follow these steps:
Go to the offer page and register using promo code (Promotional below code):share12
In the Web interface, download and install an application for Windows, using the link "Download SafeDNS Agent for Windows [6 Mb]".
When installing, log in using your email (email) and set password (password) at the registration stage.
terms of an offer
This subscription Safe @ Home tariff for 1 year, including protection up to three home network with one account.
You get free updates during the subscription period.
Free technical support by email only.
Your subscription starts from the moment of registration.