This is my current setup for 2021

Reminder how antiviruses perform on my system. (only performance, not protection)

Sophos = 1/5

Very heavy on my system. I uninstalled and won't use it in the near future.
Heimdal = 5/5
Very fast and responsive program however the protection rate is very bad and for this price there are better alternatives.

Trend Micro =

5/5
It is fast and offers better protection than Heaimdal.
McAfee = 5/5
Fast and the protection rate is also good.
AVG = 4/5
I have mixed feeling about it.
Norton = 5/5
It is crazy fast and responsive. Protection rate is on the top. Must have product. Probably the fastest and most improved complete suit I 've tried. Scanning consume 30-35% CPU which is very good and this way the system remains very usable..
Sophos 1/5?
I mean yea it has many processes, but is it actually slowing down your system that much? I have it installed for some days now and I can barely see any CPU usage.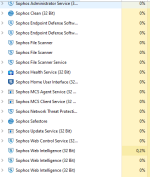 When scanning: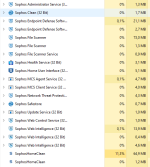 But as I can see you are totally fine with Norton.
Last edited by a moderator: