Source:
Microsoft reveals details of the data that it's collecting from Windows 10 devices
Microsoft today opened up further on the nature of its data collection in the OS, revealing a much greater level of detail than ever before on the telemetry that it harvests from users' systems.
April 5, 2017 - Windows 10 privacy journey continues: more transparency and controls for you

With the Creators Update, we've taken significant steps forward to help ensure you have information to make informed choices and you are in control of the personalized experiences you choose with Windows 10.
Here's what you can expect from us with this update:
Everyone will have the opportunity to review their privacy settings
. We believe it is important that you understand your choices. We've made this easier than ever before with clearer descriptions of each privacy setting and "Learn More" buttons that allow you to dive deeper into the information we collect and how it is used.
For those of you already running a version of Windows 10
, we will deliver a notification to schedule your Creators Update and choose your privacy settings as depicted below.
For those of you who are setting up a new Windows 10 device for the first time
or running a clean install of Windows 10, the new privacy set up experience will look like the one below.
For those of you with mobile devices currently running Windows 10 Mobile
, the key privacy choices relevant to the mobile version of the Windows 10 Creators Update will be presented after you install the update. The only difference in mobile is the "Tailored experiences with diagnostic data" setting is automatically turned off for all customers and is not presented as an option on the privacy screen due to limitations of the mobile platform.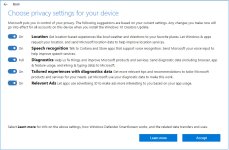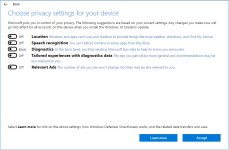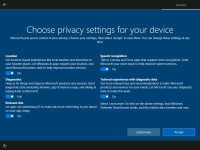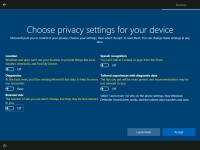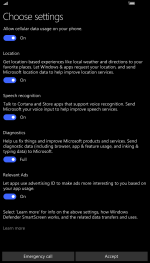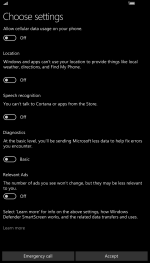 Windows Blog
:
Windows 10 privacy journey continues: more transparency and controls for you - Windows Experience Blog