The "Your Battery Is Damaged By Viruses" pop-up is a prevalent online scam that targets mobile (Android and iOS) and desktop users alike. This fraudulent pop-up claims that your device is infected with viruses that are damaging the battery and must be removed immediately.
This eye-catching pop-up is designed to trick unsuspecting users into downloading fake "anti-virus" software or other potentially unwanted programs (PUPs). If clicked, it can infect your device with malware, compromise your privacy, and expose you to other cyberthreats.
This comprehensive guide will provide an in-depth look at how the "Your Battery Is Damaged By Viruses" scam works, how to identify it, and most importantly, how to protect yourself and remove any unwanted programs installed by this pop-up.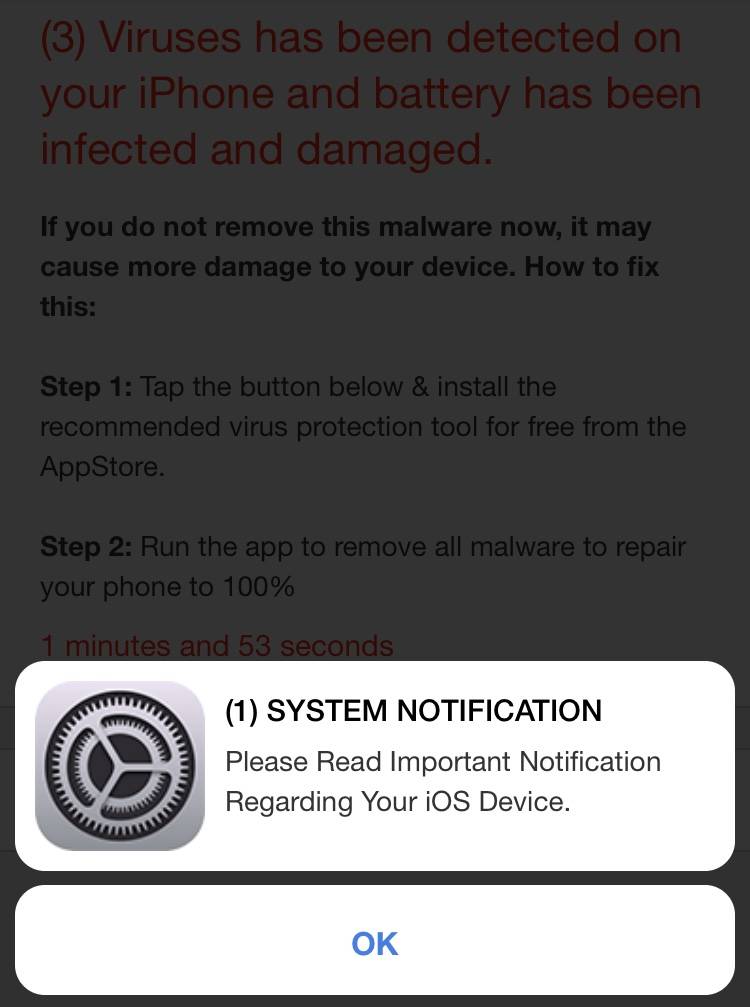 Overview of the Scam
The "Your Battery Is Damaged By Viruses" scam is a social engineering technique that manipulates users into believing there is an urgent battery-related issue on their device that requires immediate action.
This deceptive pop-up will display alarming messages such as:
"Warning! This device is infected with viruses that are damaging the battery and must be removed immediately to prevent permanent damage."
or
"Your battery is 28.1% DAMAGED due to 14 malicious viruses. If you do not remove the viruses now, your device will lock the battery and shutdown permanently."
These threatening messages spark fear in users and pressure them to act quickly without thinking. The pop-up will then prompt users to download fake "anti-virus" software by clicking on a button or link.
In reality, there are no viruses damaging the battery. The pop-up is fake and the software promoted is either fraudulent or contains additional threats. Those who fall for this scam risk infecting their devices with actual malware, having their personal data stolen, and falling victim to other cybercrimes.
The Goal of the Scammers
The "Your Battery Is Damaged By Viruses" scam has two primary goals:
To get users to download potentially unwanted programs (PUPs) or malware disguised as "anti-virus software." These programs can infect devices, track browsing data, display intrusive ads, and expose users to further cyber threats.
To collect personal information from victims such as names, emails, and credit card details. Scammers can sell this data or use it for identity theft.
In both cases, the scammers are motivated by financial gain, either through selling user data or forcing victims to purchase paid versions of ineffective software.
How the Scam Spreads
The fraudulent pop-up is distributed through various channels:
Malicious advertisements on reputable websites – Even trusted sites can sometimes display corrupted ads containing the pop-up scam.
Compromised sites – Cybercriminals can inject the code for the pop-up into websites with security vulnerabilities.
Freeware and shareware – Some free programs bundle the scam pop-up code into their installers as a way to make money.
Social engineering links – Scammers distribute links to the pop-up through spam emails, social media posts, pop-up ads, and other channels.
Once displayed on a user's screen, the deceptive pop-up uses social engineering to manipulate victims into installing unwanted programs or handing over personal information.
Technical Analysis of the Scam Pop-up
The "Your Battery Is Damaged By Viruses" scam pop-up is generated by malicious JavaScript code that gets injected into web pages.
Here is a brief technical analysis:
It overrides the website's legitimate content by overlaying the fraudulent pop-up message.
The JavaScript makes the pop-up difficult to close by disabling standard browser functions like the close tab (X) button.
Buttons contained in the pop-up are linked to executables that install unwanted programs when clicked.
It may run code to auto-download files in the background without any action by the user.
The pop-up code harvests technical details about the victim's device to make the scam more believable.
Data entered by victims such as names, phone numbers, or emails may be exfiltrated by the script.
The scam pop-up exhibits social engineering tricks and some technical techniques to infect devices and collect user data.
It may sound obvious, but the number one rule is not to click on any buttons or links in the scam pop-up. Even just clicking to close it can trigger unwanted activity in the background. Avoid taking any action recommended by the fraudulent message.
Removal Instructions for Your Battery Is Damaged By Viruses Ads
This malware removal guide may appear overwhelming due to the number of steps and numerous programs that are being used. We have only written it this way to provide clear, detailed, and easy-to-understand instructions that anyone can use to remove malware for free.
Please perform all the steps in the correct order. If you have any questions or doubts at any point, stop and
ask for our assistance
.
Browser hijackers and adware can infect Windows, Mac, or Android devices, so we've covered below all these operating systems. Depending on which operating system is installed on the device you're seeing the Your Battery Is Damaged By Viruses alerts, please click on the operating system icon below and follow the displayed steps to remove it.