Level 45
Verified
Top Poster
Well-known
Confirmed loading delay for Dark Reading but here, it was the Strict setting in Firefox that was causing the delay. Changing it to Standard and the page loaded within about a second with Trace and uBO enabled (minimal settings above default) It seems this is Firefox's setup for Strict settings:


I saw on the GitHub page your issue was marked as "closed," SeriousHoax.
Yeah, it's the "Tracking content" in Strict or Custom mode causes this. Disabling it works.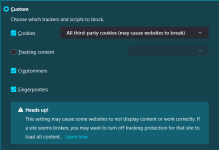 I am using Firefox with Strict settings and couldn't reproduce the delay. I also think that it could be related to uBlock Origin, as I don't have the issue with AdGuard extension.
That's weird because everyone but you can reproduce it. I can even reproduce it even if I disable uBO and only use Firefox with Strict/"Tracking content" turned on.
Don't why the issue is not present in Adguard because there is nothing special in the log.