Level 74
Thread author
Verified
Honorary Member
Top Poster
Content Creator
Well-known
AV-Comparatives released their latest

Performance Test Report

for consumer security products under Microsoft Windows 10.

17 consumer products were tested regarding their impact on system performance. But keep in mind: Protection is more important than speed!

AV-Comparatives Releases Performance Test Report, Showing the Impact of Security Software on System Performance

AV-Comparatives, an independent test lab for antivirus software, has released its latest Performance Test report, highlighting the impact of consumer security software on system performance in low-end systems.

AV-Comparatives today announced the release of its latest Performance Test results, evaluating the impact of antivirus software on system performance. This independent testing lab is dedicated to informing users about protection against cybercrime, with its systematic testing of the market's most popular security software solutions. The company creates a real-world test environment for accurate testing, which mimics the activities of typical users.

The products evaluated by AV-Comparatives in its Performance Test were Avast Free Antivirus, AVG Free Antivirus, Avira Prime, Bitdefender Internet Security, ESET Internet Security, G Data Total Security, K7 Total Security, Kaspersky Internet Security, Malwarebytes Premium, McAfee Total Protection, Microsoft Defender, NortonLifeLock Norton 360 Deluxe, Panda Free Antivirus, Total AV Antivirus Pro, Total Defense Essential Antivirus, Trend Micro Internet Security, and VIPRE Advanced Security.

The tests conducted by AV-Comparatives for each of the products include file copying, archiving & unarchiving, installing applications, launching applications, downloading files, browsing websites, and tests using the PC Mark 10 Professional Testing Suite.

AV-Comparatives carried out its performance test on a low-end machine with an Intel Core i3 CPU, 4GB of RAM, and a solid-state system drive (SSD), with Windows 10 21H2 64-Bit installed. The tests were conducted with an active Internet connection. Adequate measures were taken to minimize the factors capable of influencing the measurements and/or comparability of the systems.

According to AV-Comparatives, the reported data provides just an indication and may not be applicable in all circumstances because many factors can play an additional part. It also recommends that users should always put higher emphasis on protection rather than speed. All the tested products reached at least the "Standard" Award level.

In autumn AV-Comparatives will release its speed-impact test for high-end systems.
Blog post:
AV-Comparatives released their latest Performance Test Report for consumer security products under Microsoft Windows 10. 17 consumer products were tested
www.av-comparatives.org
Results: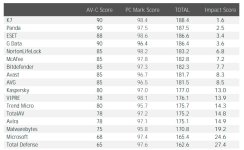 Performance Test April 2022 for Microsoft Windows 10 security products released, 17 products' impact on system performance was tested.
www.av-comparatives.org
PDF: