Level 68
Thread author
Verified
Honorary Member
Top Poster
Content Creator
Well-known
Cyber Ratings ran a study in July 2021 in which it tested the defensive capabilities of the web browsers Microsoft Edge, Mozilla Firefox and Google Chrome. The study observed malware and phishing protections of the browsers over the course of 20 days. Four tests were run each day, with fresh attacks being added and old ones removed throughout the 20 day period.

Google Chrome and Mozilla Firefox use Google Safe Browsing API to protect users against malware and phishing attacks. Microsoft Edge uses Microsoft Defender SmartScreen for protection.

The following browser versions were used for the test on a Windows 10 Pro version 21H1 system:

Google Chrome: Version 90.0.4430.212 - 91.0.4472.19
Microsoft Edge: Version: 91.0.864.19 - 91.0.864.37
Mozilla Firefox: Version 88.0.1 - 88.0.1
Interested users find test methodology and the two comparative rating reports as PDF downloads on the

Cyber Ratings website

. Everything is available as a free direct download at the time of writing.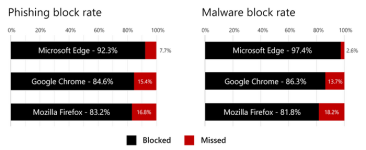 Closing Words
Microsoft Edge has the edge when it comes to malware and phishing protections according to the study. The base configuration of each browser was used and automatic updates were enabled. Protections can be improved significantly by users, for instance by installing content blockers or by using common sense while on the Internet.
Microsoft Edge protects better against malware and phshing attacks and threats on the Internet than Google Chrome and Mozilla Firefox, according to a Cyber Ratings study.