List of current issues

Every time I manually check for updates, he comes there. If confirmed after success, he will reappear.
Steps taken, but have been unsuccessful?

Reboot
sfc
Windows built-in troubleshooting tools

There is no change in the phenomenon.
Oddly enough, it's already in the list of successful updates.
I will leave it as it is because it is not harmful, but I think it is related to the upgrade that will be distributed soon, so please let me know if you have any information.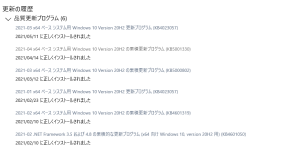 The date will be updated to the latest applied time, but you will be prompted to install it every time you check.

Last edited by a moderator: